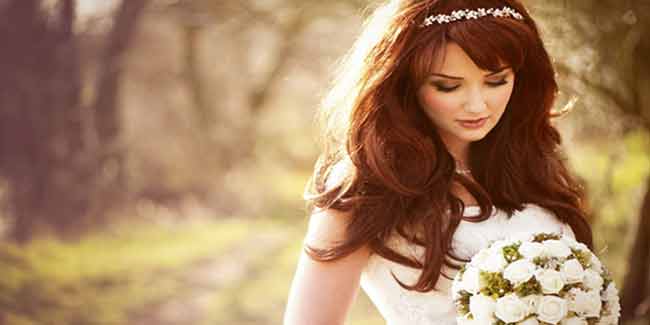 Wedding day hair woes can prove to be cause of serious trauma and worry. This is so especially, if it happens to be wedding hairstyles for long hair that you are after. Some detailed deliberation would be required here. When you have short hair, it can easily be covered with veils and flowers. However, long hair would require precise and impeccable arrangements for imparting the right appeal to the bridal do. There are some salient aspects which need to be considered before determining wedding hairstyles for long hair.

Wedding Hairstyles for Long Hair:
Although you might be striving to look your best on your wedding day, adopting a popular hairstyle and merely copying it may not be the right thing to do. In order to look really good, you need to consider something you would be comfortable and confident to carry out. Therefore, choose something you would be comfortable with and suits or conforms to your personal style.
Consider the shape of your face, your eye set, your lips and your overall facial skin complexion before deciding on wedding hairstyles for long hair that suits you just perfect.
If you have a face that's longish in shape and somewhat thin, make sure you avoid tying your hair high up as it might make your face appear even longer. Similarly, if you have a roundish face, it should look just right with a high up knot.
If your jaw is blatantly squarish in shape, you would probably look to soften it by choosing the right hairdo. Consider curling your strands and leave some of them loose to fall in and around your cheeks. This wouldcreate a soft look that would contrast the sharp jaw-line.
If you have bangs, pinning them up by sweeping them to one side would probably ensure a more romantic look for the bride.
If you are looking to make a simple style statement, it has to be with curls that are soft, wavy and low. Such curls would blend easily with your natural look creating an elegant and classy appearance. However, if you wish to make a bold fashion statement, it should include full, big and high curls that stand out.

Wedding hairstyles for long hair should also be chosen depending upon the texture of the hair. If you are planning to let your hair down, make sure it has been washed and conditioned well. Resorting to hot oil treatments may work wonders and ensure lustrous texture.