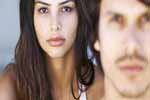 Help for Relationships – Overcoming jealousy in relationships will ensure their longevity. Every relationship is built on trust and overcoming jealousy in relationships will ensure that you can once again fully trust your lo
Every couple will absolutely admit to the fact the one or both of them have suffered from pangs of jealousy in their relationship. Although a little jealousy and possessiveness may add spark to the relationship, the green eyed monster may also reign in havoc in the relationship. Overt jealousy causes problems in any relationship and there is an active need to overcome jealousy in relationships.

Ways to overcome jealousy in relationships
Take a Good Look at Yourself
The first step to overcoming jealousy in relationships is analysing yourself. What makes you jealous? Are you always doubtful of your partner's intentions? What is the real reason behind this jealousy? Once you locate the root cause of jealousy, it is half the battle won.

Positivity is the Key
Low self esteem is the root cause of jealousy in most relationships. A person low on confidence will create problems in a relationship. If you suffer from low self esteem try and eliminate it. Cut yourself some slack and more importantly love your own self. Only those people are valued who value themselves. Once you revive your level; of confidence you will also become confident about your relationship.

Trust your Partner
Trust in a relationship is of crucial importance in overcoming jealousy in a relationship. It takes time to build trust and you should work towards building. Talk to your partner about your lack of trust and try and explain to him how you feel.

Talk it Out
Poor communication can affect a relationship. And jealousy is one of the direct results of poor communication. You need to talk to your partner about lack of communication and work on it. Share your doubts with her/him and also let her/him express his feelings. Proper communication will lead to transparency and will help you overcome jealousy in relationships.

Talk to a Friend
You can consult a good friend when trying to overcome jealousy in relationships. Talk to your friend and tell about your fears and anxieties and what exactly sparks off the jealous streak in you. Your friend might be able to give some valuable about the kind of person you really are and this might help your relationship.

Seek Professional Help
In case your overtly jealous nature is causing umpteen problems in the relationship it is time to look for professional help. Counsellors are professionally equipped to help you overcome jealousy in relationships. They also help your relationship with joint couples' sessions where the emotional insecurities and jealousy of one partner is brought out in front of another.
Overcoming jealousy in relationships is crucial to the survival of the relationship. Jealousy will lead to discontentment and problems in relationships and in some cases; an eventual fallout. You can help your relationship by overcoming jealousy and turning over a new leaf in the relationship.
Read more articles on Relationship Help