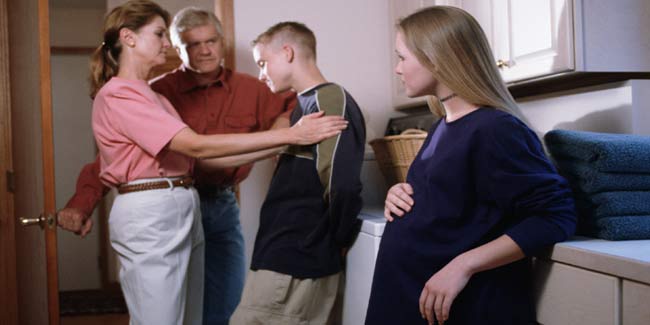 Pregnancy can be a very irksome experience for a teenage girl. However, if you are pregnant be prepared for it and learn how to deal with it.
Pregnancy is a term which can make a woman elated or on the other hand can make her scared. Not everyone has their pregnancy planned and definitely not teenage girls. Pregnancy befalls upon a teenager by mistake and handling this complicated matter at such an early age can prove to be scary.

Being brave and strong about it is the first and the most important prerequisite for handling teenage pregnancy. We can deduce three ways to handle this.


Discuss
Don't shy away thinking about what others may think about you. This is one of the most common mistakes that people commit. Shying away would mean hampering your own health and that of the unborn child's. Adults must also understand that this is not the time to grab your daughter/son by his/her neck; this is the time to be supportive and understanding. Also this issue should be discussed with both the affected families. You should be able to reach a consensus on whether to terminate the pregnancy or to go ahead with it. Allowing a new life would mean marriage or in some unfortunate cases single parenting. Are you really prepared for it?
Be Prepared
Pregnancy is hectic by itself and to be pregnant at such an early age would of course have its disadvantages. Societies prying eyes would be constantly fixed upon you and you should know how to handle the situation. Whatever you do, always be confident and brave it.



Come closer as a family and stand up for what you think is right. Whether its abortion or delivery, keep calm and keep a smile on your face.
It is in fact better if both the concerned families come together and bond.
Make sure you do not ever fight over whose fault it is. The boy or the girl did what their age demanded them to do, so let's just keep it there!
Post Pregnancy Blues
Whether you are going to abort or give your child up for adoption or have it yourself, know what you are doing. And for the budding mom and dad to be, please for once listen to your own counterparts. Not that if they give a bad advice you take it up; just understand that they would want you to be happy.

Also, after delivery you will have to become a little more responsible. Do not behave like a teenager anymore.
Read more articles on Teenage Pregnancy.