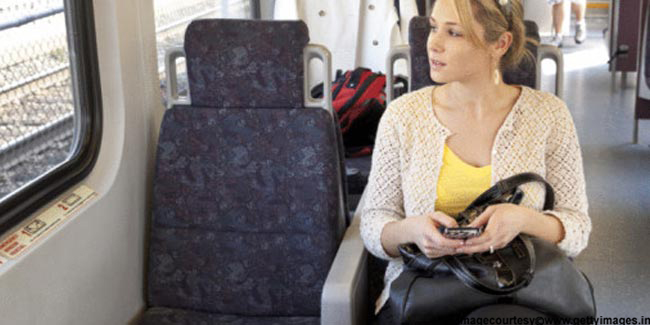 It is usually safe to travel by train at any time of your pregnancy. Find out tips on how to travel comfortably by train when you're pregnant.
Train do not have any restrictions for pregnant travellers. But, railways authorities suggest that pregnant passengers check with their doctor before travelling.
Traveling during pregnancy is generally safe whether you are going in a car, bus or train. But certain precautionary measures can help keep you and your baby safe in unforeseen circumstances and make your trip comfortable.
One must not carry heavy luggage



Pregnant women should not carry or lift any heavy objects, so if you are traveling alone it is better you pack light. Pick a suitcase with wheels or a stroller to make it easy for you to drag your belongings or better still hire a porter. Try as much as possible not to travel alone as unforeseen complications may arise which only a friend, family member or companion would be able to handle.
Be before time
Trains can get unpredictable! It is always better to be before time to catch a train in order to minimize any confusion and to avoid the crowd. Reaching before time will help you settle down comfortably.
Exercise caution
When you are traveling by rail you would need to be extra cautious while boarding and alighting especially on the footboard.
Take a lower berth
If you traveling by train during pregnancy, it is always better to book a lower berth as not only it aids in easy movement but also reduces any risk of a fall. Mention your choice of seat during reservation or you may take help of concerned railway officer on duty to arrange a convenient seat. You can also request your fellow passengers to swap their seats with you. Booking a seat along the corridor will also help in frequent movement without disturbing others.
Move around
Trains have enough space in the alley or corridor to provide you with some exercise. So get up often and move around to stretch your body and relax sore muscles. But while you are moving around make sure you hold on to the rails or seat backs for support. Sitting exercises such as rotating your ankles, wiggling your toes and gently flexing your calf muscles will also help as stretching exercises.
Washroom visits
There are only a few washrooms in a train and that too are small in size. You need to be careful about maintaining your balance as the train's rocking movement especially in the bathroom can make you disoriented. Always hold on to some kind of support and wash your hands after visiting a bathroom especially a public toilet.
Read more articles on Pregnancy and Travel.