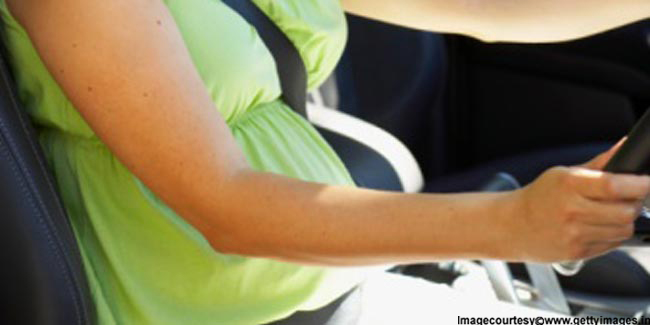 Pregnant women find it more comfortable to travel by car during pregnancy than any other mode of transportation. Although, it is quite a safe way to travel, there are few things that you need to know to make your journey a safe and enjoyable one.
Travelling during pregnancy is generally safe whether you are going in a car, bus or train. In order to keep you and your baby safe in unforeseen circumstances and to make your trip comfortable, you need to take care of certain things.
Wear your Seat Belt properly

Many pregnant women are usually in a fix when it comes to deciding whether they should wear a seat belt or not while travelling. Putting the seat belt is all the more important during pregnancy as it is not just the mother who needs protection but also the baby. A seat belt consists of two belts; the shoulder belt which runs from one side of the shoulder and buckles up near the waist and the lap belt, which runs across the waist or pelvis. While the lap belt must run beneath the baby bump and across pelvis, the shoulder belt should pass over the baby bump and in between breasts. Seat belt should never pass over the belly because a sudden jerk may cause complications. Make sure your seat belts are properly fitted and remain snug when you wear them.
Be a Co-passenger rather than a Driver
Driving during pregnancy should be avoided, particularly during the later stages when your baby bump would almost be touching the steering wheel. Enjoy being the passenger and try sitting in the middle of the car rather than in the front or back where sudden jerks are most felt. Keep your seat away from the dashboard as much as possible to reduce any risk of damage in case of a crash. If you are driving and the steering wheel is adjustable, make sure you align it in a way that there is a safe distance between the wheel and your belly.
Keep Air Bags Active

To be safe, it is wise to keep the air bags active at all times. To reduce the risks of sudden deployment or unncecessary opening of air bags, you should keep your seat away from the dashboard as much as possible.
Keep the Car Ride Short
Even a short trip can get exhausting for you and it is therefore, best to keep the ride short. Restrict your travel time to not more than five to six hours in a day and it's much better if you can take a break every hour to stretch your body and help the muscles relax. Sitting exercises such as rotating ankles, wiggling toes and gently flexing calf muscles will also work as stretching exercises.
Travelling by car or by any other vehicle during pregnancy is not so difficult as it may seem like. But, you must take certain precautions and prepare yourself for an unexpected turn of events.
Read more articles on Pregnancy and Travel.