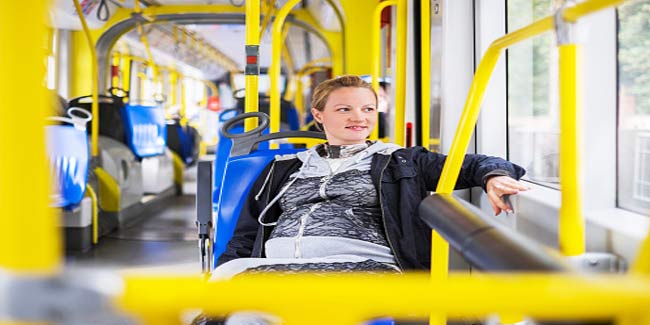 Bus travel during pregnancy can be uncomfortable when compared with other modes of transportation. What can you do to keep yourself and your baby safe in unforeseen circumstances and make your trip comfortable? A journey by bus during pregnancy can be quite uncomfortable as it tends to be crowded, noisy and the trip itself can be extremely long and bumpy. Travelling during pregnancy is generally safe whether you are going by road, in a car or by bus. If you do not have any option other than travelling by bus, then it is better to make it safe and well-fixed as much as you can. Here is how to make your bus travel smooth.


Be on time
Sitting arrangement in most buses is based on first-come, first-served basis. To get a comfy sitting place, it is wise to reach the bus station before time. This way you will also be able to avoid the crowd and prevent jostling around.
Take a safe and comfortable seat
It is always safe to sit in the middle of a bus and not in the front or back row. Sitting on a seat in the middle row will keep you comparatively safer in the event of a crash which can damage both rear and the front part of a bus. Getting an aisle seat will make an area for some movement as you can stretch your legs without irritating your co- passenger. Buses have a narrow aisle which is not perfect in case you want to move around as the bumpy ride can put you at risk of a fall. Sitting exercises such as rotating your ankles, wiggling your toes and gently flexing your calf muscles will work as stretching exercises.
Pack smart
Carrying too much luggage can be a problem, so pack light. Divide your luggage into a stroller and the other into a carry bag. Stroller can be tucked away in the luggage bay of the bus while the carry bag containing all the essentials can be with you throughout the trip.
Avoid travelling during peak hours
Avoid peak hours as the bus can get crowded during this time. If possible, look for buses with lesser scheduled stopovers as this will lessen your travelling time.
Take advantage of scheduled halts
Take optimum advantage of scheduled bus stops to visit a washroom or just to stretch around. In case you are travelling alone, it is always better to notify your fellow passengers and your driver about your state of health so that in case you take extra time to return, they would wait for you.


Bus rides are generally bumpy and they are most loved especially for them, but if you are looking forward to one during pregnancy, make sure you have taken these precautions into consideration.

Read more articles on Pregnancy and Travel.