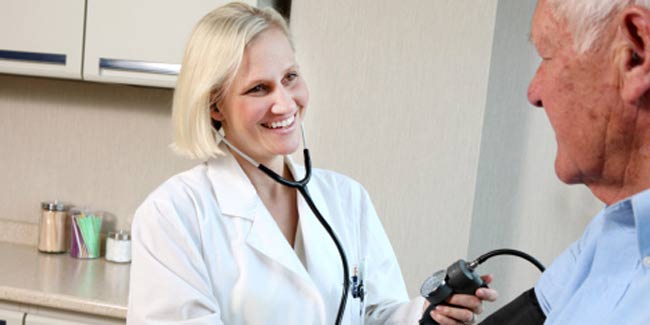 If you or your dear ones have had a stroke, chances are they might ask you to accompany them for a brief conversation with the doctor.
If you or your dear ones have had stroke, chances are they might ask you to accompany them for a brief conversation with the doctor. Here is a mini guide on top 8 questions that you must ask your doctor after stroke.
What Factors Lead to Stroke?

Usually it's because of a disrupted supply of oxygen to the brain but ask the doctor if there are any other factors that have caused stroke.
How to Minimize the Risk of Another Stroke?


Since most stroke survivors are at a higher risk for a second stroke, ask your doctor what can be done to minimize the risk of another stroke.
• Avoid smoking.
• Keep tab of your blood pressure.
• Get your cholesterol levels tested on monthly basis.
• Maintain a healthy weight.
• Cope up with stress through recreational activities such as yoga and swimming.




Which Specialists and Therapies Might Help the Patient Regain Skills and Functions?
Normally, the doctor's can refer the patient to nutritionists, physical therapists, recreational therapists, occupational therapists who can speed up patient's recovery. You might want to ask them whether they can be enrolled in some rehabilitation programs.


What Stroke Treatments Options are Available for the Patient?
There are various treatment options like Clot Buster Medications for Acute Ischemic Strokes, surgery and endovascular treatment for Acute Hemorrhagic Strokes and others like angioplasty, tissue plasminogen activator, stents, neurysm clipping and aspirin and the so as to reduce the clots. Ask the doctor if there are any other alternative treatments such as yoga therapies or acupuncture which can speed up your recovery.
What Kind of Diet Must be Followed by the Patient?
Though the nutritionist would prepare a diet chart, you must avoid the following:

• Fried food.
• Saturated fat.
• Reduce intake of salt, meat and other dairy products.
• Learn healthy methods of cooking such as baking or tossing your vegetables.




Is it Safe to Resume Exercise Regimen After Stroke?
Exercises help in controlling cholesterol levels, shedding weight, fighting high blood pressure and keeping depression at bay. Normally they can begin exercising after successfully completing their rehabilitation program but doctors can appropriately advice exercises and exercise duration.
Do Stroke Patients Need Any Special Equipment for Daily Tasks?
Ask the doctor whether the patient would need a wheel chair, braces or a walker. If you think you cannot buy it, ask them if any medical facility providers can give it on rent.
What are the Symptoms of Another Stroke?
Here are a few symptoms of stroke:

• Weakness in one side of the body.
• Sudden numbness.
• Weak eye sight.
• Dizziness.
• Severe headache without known cause.
• Trouble in speaking and understanding.
Document any other symptom and inform your doctor.

Now, that you know what to ask the doctor put the stroke recovery plan into use and try and help the stroke patient rediscover a new life post stroke.
Read more on Stroke.

Image courtesy: Getty Images