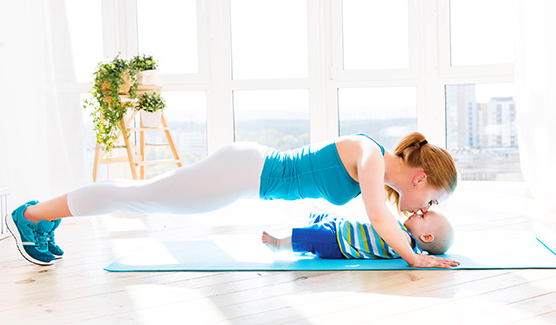 Having a baby is gift of God, but health hazards of pregnancy could be devastating. Getting back to normal weight after having a baby requires a lot of hard work as well as dedication.
Gaining weight during pregnancy is a natural phenomenon. Weight of up to 15 kilograms is gained by women during their pregnancy terms. All the weight gained during the term is not shed after successful delivery of a baby. Therefore, there is an anxious feeling to shed off excess weight after pregnancy.
Lack of know-how lead women to unsafe methods such as use of diet pills and altering diet plans in order to lose weight in a quick time. These methods bring an outcome within no time; safety remains a concern. Shortcut to lose weight has a temporary effect, therefore, do not expect lasting results. On the safe side, there are healthier and safer ways to lose weight after having a baby requires change in healthy habits and lifestyle alterations.
Physical Exercise
As soon as physician declares you fit, include some physical exercises in your everyday schedule. Although involvement in any kind is not recommended for up to eight in case you had a C-section.

To begin with physical exercises, pick up some low intensity exercises. One can go for 30 minutes of cardiovascular exercise like jogging or use of elliptical trainer. These exercises should be scheduled and followed correctly in order to reach at the desired outcome.


Structuring Diet
Structuring a dietary plan is another crucial aspect in the path of recovery. An appropriate diet plan for women desiring to shed weight after pregnancy must include natural foods, limited processed foods and lower caloric intake. Burning more calories than consumed is the basic principle of weight loss, which should be considered while structuring food chart.

In order to keep you feeling full of energy all day, natural foods like fruits, vegetables and whole grains are recommended. These are rich in dietary fibre, low in calories and keep hunger at bay. In the scenario where you have to breastfeed the newborn, consuming the least amount of 1,800 calories per day is recommended.
Breastfeed
There are various alternatives of breastfeeding that are available in the marketplace. Instead of using these, breastfeed the baby, which not only aid newborn but also triggers weight loss. Several researches have confirmed that women breastfeeding their babies lose a considerable weight, without the help of dieting regimen.
High-intensity Training
After complete recovery from having a baby, engage in some high-intensity interval training. These exercises help in burning more fat in less time than low intensity training. Treadmill, elliptical trainer, stationary bike and jogging outside are some of the options of high intensity training.
Get back to your former self or may be someone completely new after giving birth. Get to work as soon as you can!
Image source: Getty