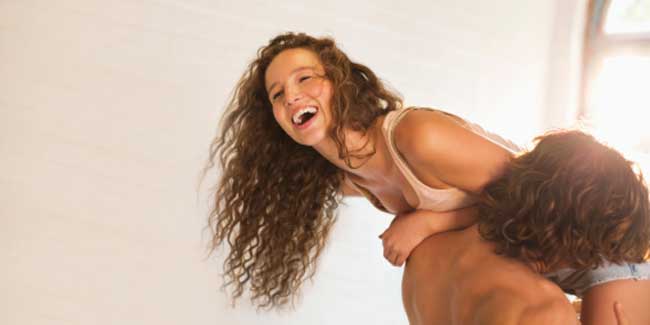 Building on the ability to control your senses can help you to last really long in bed and keep your woman happy. Here are some quickies.
On an average, a man can last 5 to 10 minutes duing sex, but there are some men who want to increase their endurance and make it last for a longer period. The trick to achieve that endurance level is easy:just follow these steps.
Control your Nerves
You should neither be too excited nor nervous when you are with your partner in bed. If you find yourself trying your best to keep the nerves calm but just can't help it, take deep breaths. Believe us, it will be an erogenous expression for your partner. Besides, it is an amazing way to gain control of your senses. Now even if you are at the brink of ejaculation, you can distract your mind towards the breathing.
Perform Kegel Exercises
The poboccocygeus (PC) muscle controls the flow of urine and semen during ejaculation. Kegel exercises help to strengthen the PC muscles. If you know which muscles the PC muscles really are, you'd be able to manage your timing in bed appropriately. And, for this, try to pause the flow of urine when you urinate. This would help you locate the PC muscles. Once you have located the PC muscles, try to stregthen them.
Use a Condom
Using a condom while having sex works not only for preventing HIV and other sexually transmitted diseases, it also helps you to have more sex. Becaues the condom is a sort of a barrier between your member and your partner's reproductive organ, it keeps the impact of the thrust minimal, thus delaying ejaculation.
Try New Positions
Pause a couple of times while you are having sex and try to delay the orgasm by changing positions. There are certain positions that are conducive to bringing about ejaculation in men. You could avoid these positions and try those that your partner would be more aroused in. Experiment with a couple of positions to settle for one that is capable of delaying ejaculation.
Tune all the Senses
Learn some ways of mind control that help you be in the moment rather than being wayward. You need to direct your mind away from the genitals and transfer it on other sensations that you experience. This helps to subconsciously reduce your sensitivity and get rid of undesirable muscle tension occurring in your pelvic muscles.
Become Healthier
The ideal way to last long in bed is to be naturally more capable. That comes from being healthy. If you smoke or drink alcohol, stop for a few weeks or better still, forever. Take to a healthful diet and regular exercise to build stamina. A stronger back and improved lung capacity, two major benefits of exercise and healthy diet, would surely help you last long in bed.
Men may never be able to get the better of women in their ability to last in bed, but they can surely leave them fully satisfied by practicing these tips.
Read more articles on Sex Education.