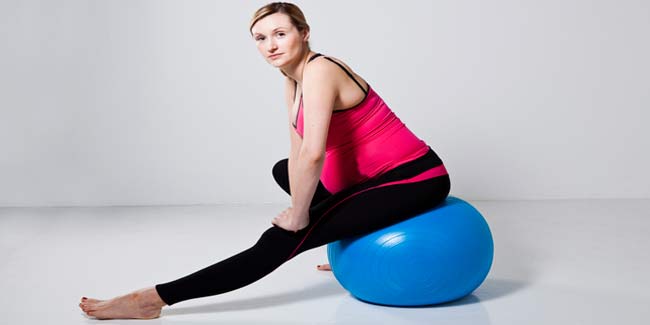 Being pregnant doesn't have to mean abandoning all your fitness routines; it just means you need to be a little more vigilant about where and how you exercise. If you are already skilled and proficient at certain exercises and techniques, then there shouldn't be any problems continuing them. It can be just as important to stay fit and strong during pregnancy, as you will need a show of strength during labour.
Stay indoors

Working out indoors minimises unpredictability; you're never too sure what you're going to get outdoors. Unmerciful weather can make footpaths slippery; loose debris may cause you to stumble or trip and loose autumnal leaves may make you slip. The chances of these happening are slim of course and you may scoff at this, but one trip, fall or stumble could cause a mis-carriage.
Erin O'Brien, a pre- and post-natal exercise specialist out of California agrees with taking your routines indoors and stresses that you can maximise the contours of your own home. O'Brien produced an exercise DVD called Pregnancy Fitness and it details numerous ways of keeping yourself in relative shape up to the delivery.
"Walking stairs is a great workout, because as you get heavier, you'll need stronger legs; put on some rock-and-roll," she says, "and walk up and down your stairs for 20 minutes, up until you're 36 weeks pregnant."
Keep cool

Keeping cool is another pointer the experts love to stress, which is why any kind of activity in the hot summer afternoons and evenings isn't recommended; even getting in a hot tub or having a hot shower isn't advised.
Scott G. Williams MD, FACOG - an expert in obstetrics and gynecology says "babies don't develop as well with excessive heat, which is why pregnant women are told to avoid hot tubs; you get so hot, you raise the temperature of the baby; try to avoid being outside exercising in the middle of a July or August day."
While Erin O'Brien recommends that "if you look in the mirror and see that your face is really flush, I'd take it down a notch".
Back in the saddle

Cycling is a great work-out for pregnant women and to minimise the risk involved, a stationary exercise bike might be the best option. These bikes come in all shapes, sizes and requirements, so you can practically build a bike that suits your needs. Your needs in this situation are a back rest and a wide saddle, as you'll want to be as comfortable as possible in that seat.
Whatever pregnancy exercise or fitness routine you are doing, be sure to take on board lots of liquid; staying hydrated is critical for you and your baby. Tap water – if it is safe – is the best kind as it contains all the natural minerals needed in our daily diet. Try to stay away from sports drinks, as these are high on sugar content and you're not trying to endure yourself, you're just getting exercised.
Read more articles on Pregnancy Exercises.