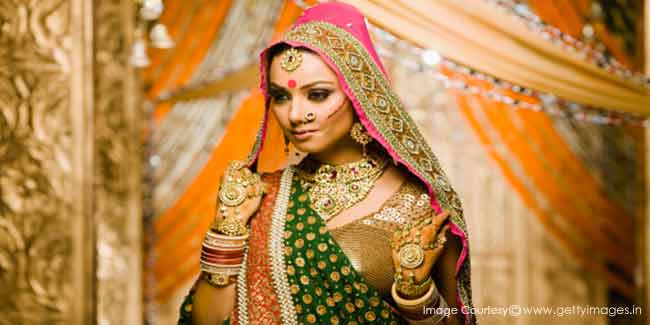 You are the heroine of your wedding day and you should look like one. Make up can't give you a picture perfect skin but following a beauty plan can. Read on.
Wedding is for a day but memories and pictures are forever. Photoshop may not come in handy when it comes to your skin. This is why, a pre-wedding skin care plan is absolutely necessary.
We bring to you one such beauty plan which includes everything you need to do for a beautiful wedding skin. You are the bride after all!
Assess Early- Six Months to Go
Experimenting products on the skin close to the wedding isn't a good idea. It doesn't give you time to make out what works for your skin and what not. You must start preparing your skin at least six months prior to the big day.
If you are planning to get fillers and Botox for the wedding, you must get it done in advance. Botox takes three to four months to wear off so plan it accordingly. If done right, it looks amazing but it affects the way you smile. You need to get used to the feeling of injections.
Make sure to try the Make-up, self-tanner , facials and procedures don't give you a rash.
Follow a gentle, non-drying, sulphate-free cleanser with an alcohol-free toner and moisturizer as a part of your daily regimen. You can also add skin serums for an added boost.
If you have any dark spots, consult a dermatologist for a treatment plan. Laser treatments, photo facials and topical products like pads and cream can brighten the skin.
Exfoliation is a must! You must get rid of any uneven texture from your body because no amount of make-up can hide it.
Up Your Antioxidant Intake- Three Months to Go
Gorgeous skin comes from inside so adding a beauty-boosting power foods a few months before walking down the aisle is a good idea.
Dark grapes boast more than 20 age-defying antioxidants. One can also consume anti-ageing citrus fruits. Drink a lot of water and snack on watermelon. Other super foods are grapefruit, broccoli and lettuce.
Continue the regime- One Month to Go
The key to beautiful skin is to follow three basic steps- cleansing, exfoliating and moisturising.
It is a sin to sleep with your make up on. Cleanse as much as you can- morning and night. One your skin is cleansed, exfoliate it. If your skin gets irritated from an exfoliant, change the product to a gentler one. Exfoliation is necessary to get rid of dead skin cells.
Moisturizing is essential. Even for an oily skin! Try using oil-free moisturizers. Plenty are available in the market.
Go easy on harsh products for your acne. Unless your problem is severe, most acne products can actually make it worse.
Also cut down on the invasive skin treatments. Your skin does not have enough time to adapt them properly. Get professional facial every 3-4 weeks for the remaining months.
Go Easy on Your Skin- One Week to Go
Swear only by the tried and tested. It is not the time to experiment with new products or services.
Avoid dairy products to banish breakouts.
Get at least eight hours of "the must" beauty sleep.
Refrigerate your skin products. Cleansing, toning and moisturizing with cool temperature products keep the skin calm and soothed.
Maintain Your Glow- Three Days to Go
Drink plenty of fluids and eat food with high water content- like salads.
Control the stress levels and keep the skin moisturized.
Get your final facial. It should focus on smoothing the skin by exfoliating and hydrating it.
Limit your intake of alcohol. It leads to under eye puffiness. For if you have to drink, follow each one with 4-8 oz glass of water.
Save your tears for the wedding day. Do not cry as yet. It's normal to shed a few tears but avoid crying which can cause excessive eye puffing.
And it is Here- The wedding Morning
Again, water is your best friend. Keep drinking it. It will prevent your mouth from getting dry.
Deep breathe! It's best to calm your nerves by taking long deep breaths.
Apply a water-based gel masks so that it doesn't add oil to your skin. But it should calm, soothe away any redness and smooth the skin.
Now that you are ready to walk the aisle with a perfectly radiant skin, go get him bride!
Read more articles on Skin Care.