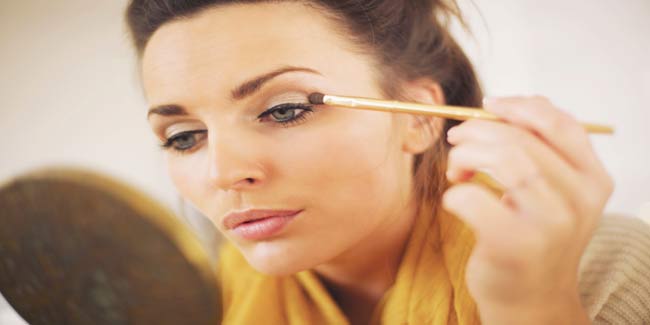 Apply eye make-up safely so that your eyes don't suffer any repercussions in due course of time. Replace old make-up products every six months.
Eye make-up is surely a very important aspect of doing up your face. The eyes play a pivotal role when it comes to enhancing your facial features. There are several options available to make the eyes look bigger or smaller. However, both the eyes and the area around them are extremely sensitive areas. They are liable to react to the application of foreign compounds, which can sometimes give rise to serious skin trouble. Therefore, safely using eye make-up is most important.. The focus should not be on looking good alone. One needs to learn the various essentials involved in learning to use eye make-up safely, as well. Some useful tips for using eye make-up safely will surely help you master the art!

Tips for using eye make-up safely are not just about buying the right products or learning how to apply them. They are about how well you manage and maintain your eye make-up products and use them hygienically. Some very simple suggestions can actually go a long way in helping you to use eye make-up safely and confidently, without having to worry about ensuing problems. Some such proprietary measures are listed below.
Safely Using Eye Make-up: Simple Steps

Some simple measures which need to be adopted for facilitating safe use of make-up products for the eye are as follows:
You need to replace make-up applicators for the eye once in every 6 months. Ideally, it is always preferred to use make-up with applicators such as sponge bobs and cotton balls which are to be used once and discarded immediately. For wands and brushes, you need to discard them at least half yearly, for maintaining hygiene. Over use can cause bacterial infestation, harming the eyes in the process.
Keep your eye make-up to yourself. Never share your make-up products for the eyes with anyone else. Abstain from borrowing make-up from others as well. This is a great way of keeping infection in check that might get easily transmitted from one person to the other.
Quite like the make-up applicators, the make-up products also need to be replaced once a year. You need to buy fresh stock, even if the expiry date is far off. This is because, once opened, cosmetics should not be used for more than six months at a stretch for safe usage. Old products are more liable to breed bacteria and cause infection.
Store your make-up products well. Follow the instructions mentioned on the labels. Ideally, they should be protected from extreme temperature or humid conditions and must be kept covered in air tight jars for keeping moisture at bay.
Always remember to remove the make-up from your eyes before you go to bed at night. When kept on for a long time, any form of eye make-up can actually cause retention of moisture, oil, dust and bacteria around the eye area resulting in inflammation and irritation. They can also clog the pores of your eyelids, leading to even more complex skin problems.

These are some simple tips for using eye make-up safely. Incorporate them into your daily routine, for healthy, trouble free eyes.
Read more articles on Eye Make-up.