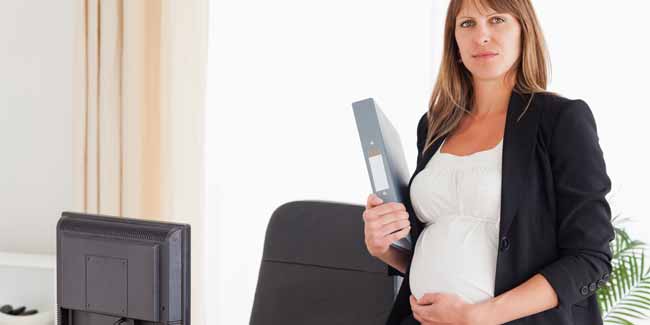 If you are expecting and planning to stay at work until labour, you would need to find ways to make yourself comfortable.
When you are pregnant, you will have to adjust some of your work habits and make slight changes to your schedule to stay safe and comfortable in the office. These slight changes will make it a more comfortable experience for you and also for your colleagues.
Tell Co-workers
Plan with your employer your course of announcing the pregnancy news depending on the culture of your workplace and your relationship with your employer. You can break the news of your pregnancy in a professional yet personal manner to your boss. You may delay breaking the news of your pregnancy until the end of first trimester if you feel you will get an unfavourable response from your employer; it is acceptable to do so as you will have an example of working efficiently even while pregnant. It is important that you are aware about your company's guidelines and policies regarding pregnancy and maternity leave. You can consider working part-time or working from home if your employer is affirmative about the idea.
Stay Active
Take frequent breaks while at work. Sitting or standing in the same position can hamper blood circulation and cause swelling in the lower limbs. Take frequent breaks for five to ten minutes to stretch your legs and relax your muscles. Computer related work and long sedentary hours can cause your neck, back and shoulder to ache. If you cannot avoid long hours of sitting, ensure that you take regular breaks and keep moving around. Take the help of a leg-rest to raise your feet while working on the computer, thereby reducing pressure off the back. Use cushions and lower back support to make sitting at your desk a comfortable experience.
Eat and Snack Healthy
Working professionals often skip a meal, especially breakfast, as they often hurry to go to work. If you are pregnant, never make the mistake of skipping any meal in the day as it can be harmful for you and the baby's health. Skipping meals can make you tired easily and starve the baby of important nutrients. It can harm both of you due to fluctuating blood sugar levels. Eat after every two or three hours to avoid any cravings which can make you opt for unhealthy food options. Choose baked and steamed foods rather than fried ones. Snack on foods rich in calcium, fibre and other essential nutrients. Fresh fruits, dry fruits and whole-wheat snacks are some excellent snacking options.
Wear Comfortable Clothes
Wear appropriate clothing to your office; this includes loosely fitting, breathable fabric made clothes. Comfortable and loose fitting clothes during pregnancy do not spell boring so wear flattering clothes which are form-fitting but comfortable. Many brands have a maternity line of clothing which are chic and fashionable, go experiment them! Wear supportive and comfortable shoes and avoid heels at all times.
Drink a Lot of Water
Drink plenty of water to keep yourself hydrated and do not feel awkward to make frequent trips to the washroom.
Avoid Stress
If it's a sedentary job i.e. the kind that requires you to sit at the desk for long hours, make sure the chair, table and computer are rightly placed so that they are not causing any stress or strain to your body. A standing job would mean taking frequent 'sitting' breaks to rest your back and legs. Keep stress under control. Stress and work are interrelated and cannot do without each other, yet you can learn to manage stress by effective delegation at work. Share your concerns with someone close to you at your workplace and practice relaxation techniques to deal with stress.
Ask for help
Seek help in case you need it during work and you can always delegate responsibilities. Most people are willing to help in such circumstances. So, relax!
Working during pregnancy is embarrassing for a lot of women. The best way to deal with it without leaving your job is to share the news and discuss how good you feel to be a mother with your colleagues. This will make working during pregnancy smooth.
Read more articles on Pregnancy and Work.