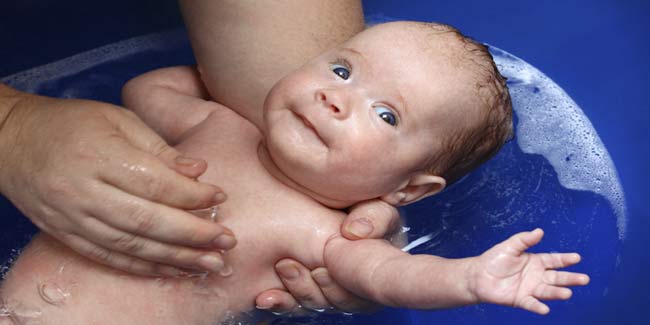 Bathing a newborn is quite unnerving even for the most confident parents. Here are some tips that can help you to make newborn bathing an enjoyable experience.
Newborn babies are very delicate and therefore bathing a newborn baby can be an intimidating task. Most newborns are wary of water and cry while their parents bathe them. This can be quite unnerving even for the most confident parents. As a result, most parents forget that bathing a newborn baby can be converted into one of the enjoyable routines of the day.
According to the Mayo Clinic's Policy statement on bathing babies, newborn babies don't need to be bathed more than twice a week; as frequent bathing may dry out their skin. Follow the below mentioned tips for bathing a new bornbaby safely:
Always prefer sponge bathing for your newborn baby. It allows the scab developed on the umbilical cord to fall off and allows the navel to heal.
Assemble all accessories such as a shallow plastic basin filled with several inches of warm water, a soft blanket or towel, a wash cloth, change of clothes, clean diaper, cotton balls, extra towels, mild baby shampoo and soap(if necessary) for the sponge bath.
Place your baby on his back on a towel or blanket on the changing table pad. Keep the bathing room warm for the baby.
Fill the infant tub with bath water up to two inches. The ideal water temperature suitable for your newborn baby is 90 degrees Fahrenheit (32 degrees Celsius). Avoid using hot water as it can accidentally scald your baby's skin.
Use wet wash cloth dipped in warm water to wring out the moisture and to wipe your baby's face. Use cotton balls to wipe baby's eyelids. Continue the same process for the rest of the body. Areas such as underarms, behind the ears, neck and diaper area need thorough cleaning. Use soap only when your newborn baby is dirty. Be gentle in washing your newborn baby as they may experience pain when there is too much poking and prodding.
Make sure you hold your newborn baby by placing one hand on baby's back firmly. Get assistance from someone to get the needed accessories while bathing your baby. Never leave your baby unattended or alone in the tub.
Use few drops of no-tears baby shampoo to massage baby's hair and scalp only when the newborn's hair appears too dirty.
Gently dry the baby using a towel. If you observe peeling skin, apply a mild baby lotion after bath. Dead skin in newborns is common and usually comes off itself. Put on the diaper and clothes and place him/her in a safe place, such as a crib or a baby seat before you remove the bath supplies.
Bathing a newborn baby may seem like a daunting task initially but by following the above mentioned bathing tips, it will no longer be a nightmare!
Read more articles on Newborn Care