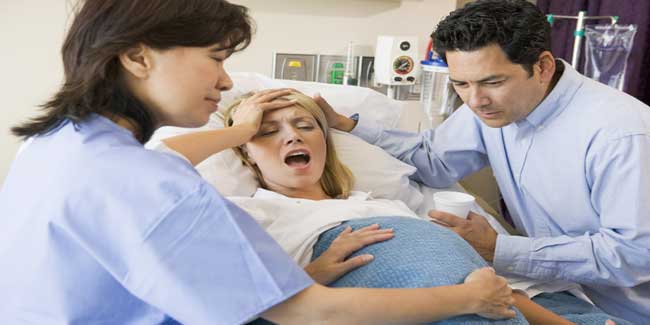 Labor is a tough time for women, and you could make it worse by saying all the wrong things. Here are some such things that you shouldnt mention during labour.
During labour a woman can become very irritated and you will ruin it further for her by saying all the wrong things to her. There are things that you should say and there are others that you shouldn't.
When a woman is in labour, few people around cannot resist sharing their opinion and wisdom. Labour is all about hard work and not a time for wisdom sharing. If you have to assist someone on labour as a husband, a friend, a family member, nurse or practitioner, choose your words wisely. There are some things that you should not say to someone in labour.


"It's taking too long..."
If you are tired of standing and waiting, avoid mentioning it. Try to think what the pregnant lady might be going through! If you are tired, hungry or annoyed, give yourself a break and go out to take a walk. Labour takes much longer time than what we see on videos, which are edited to make a 30-60 minutes videos.


"Here comes a contraction..."
The mother of the baby feels a contraction much before it comes on the fetal monitor. If you throw such a statement, the lady would feel terrible!

Having to only see the contractions on the fetal monitor, you would not realise the extent of pain the mother is literally going through. Therefore, be careful while saying anything about the contractions. Perhaps you could say: 'you are doing a great job' and 'keep going', to make the mother feel encouraged.


"What if something went wrong..."
Don't terrify the mother by talking about possible things that may go wrong while delivering. If you can't take the pressure, don't spread the negativity either. Remember that there is very little possibility of complications in labour and even if there is any, they would be known by the tests conducted during pregnancy.


"Thank God! Men don't have babies..."
This is a common statement made by most male labour partners, but this does not seem funny to any women in labour. If your wife is in labour, avoid cracking jokes.


"You seem to have a big baby..."
Even if the mother is doing a great job at pushing her baby in a timely fashion, such statements can take a women into defence mode. She may, eventually, develop an additional fear of whether she will be able to move ahead with the delivery or not.

There are many ways by which women in labour can be comforted. Encouraging words are one of the;, they can make a great difference to, labouring women. Therefore, remind the women that you love her and are available for her. During labour tell her that:
She is doing a great job.
She must think of the baby.
She will be a great mom.
She is not alone.

Giving support to the woman who is going through labour is necessary, but that doesnt mean that you say the wrong things! Be careful and be nice.
Read more articles on Labour and Delivery