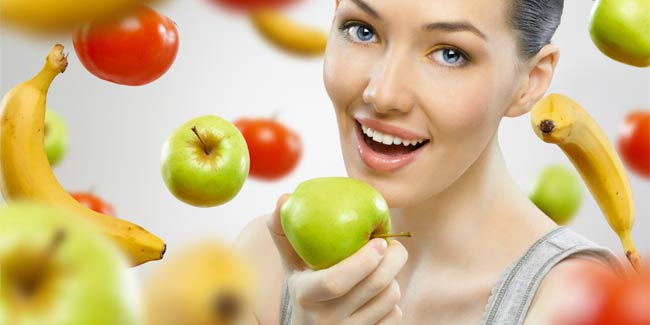 You may have tried all sorts of fairness creams, moisturisers and other cosmetic skin care products, but making your skin healthy and radiant begins with what you put into your body. Some foods have significant beneficial effect on the skin that has become loose, dry or wrinkled prematurely.
Our dietary habits not only affect our overall well-being but also have a major role to play in shaping the skin's appearance. Ideally, a perfect skin diet is one that is enriched with vitamins and minerals that promote clear and glowing skin. Moreover, our dietary options can also reduce the chance of having skin problems such as blemishes, wrinkles and redness significantly.

Whole Grains: According to The USDA Food Guide, individuals should consume three to five servings of whole grains a day. Whole grains such as brown rice, whole grain breads, cereals and oats are an excellent source of vitamin B, biotin and selenium. These nutrients ensure that the skin remains moist and smooth besides fighting free radicals that are potentially damaging for the skin.

Low-Fat Dairy Products: A rich source of beta-carotene, vitamins A, B and D, low-fat dairy products help the skin's tissues retain its moisture. Two to three servings of low-dairy products a day are recommended and these can be found in milk, cottage cheese, yogurt and cheese.

Fruits and Vegetables: Fruits and vegetables are a must for eliminating free radicals and repairing skin tissue. Seven to nine servings of leafy green vegetables and fruits, such as sweet potatoes, berries, spinach and broccoli is recommended to ascertain dewy and clear skin. These provide skin all the antioxidants along with vitamins A, C, E and B complex vitamins, beta-carotene, selenium and manganese which promote skin health.

Lean Protein: Rich in iron, selenium, zinc, B complex and vitamin E, lean meats help the skin retain moisture. Moreover, these nutrients encourage collagen production for a clear complexion. The best sources of lean protein are red meat, fish, poultry, low-fat milk, eggs, nuts, beans and peanut butter.

Essential Fatty Acids: Essential fatty acids help maintain and promote clear skin. Foods such as nuts and fish (tuna and salmon) are the best sources of essential fatty acids.

Water: Water is as important as food to let the skin stay flexible and elastic. Stay hydrated to allow the cells in the loose areas of the skin to regenerate.

Adequate nutrition intake and healthy skin go hand-in-hand. Consuming the right amount and type of nutrients is a prerequisite to ascertain steady skin growth, regeneration and elasticity. Make sure you have a healthful diet which not only boosts energy and improves body's mechanisms but also helps the skin look firmer and radiant.
Read more articles on Skin Care.