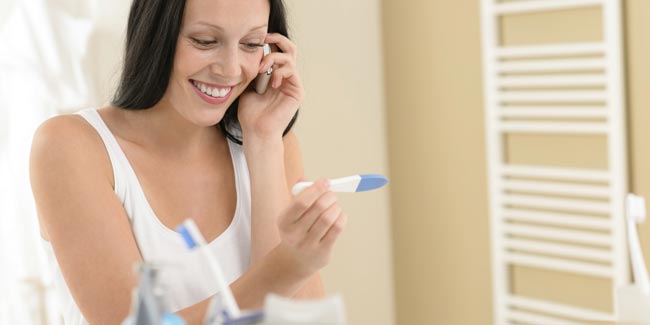 A missed period can make an a woman elated, but then there is the test to confirm the pregnancy. What are the tests that you can take to confirm your pregnancy?
A woman who is sexually active and is not using protection has major chances of getting pregnant. There are many a tests that a woman can take in order to determine one's pregnancy. Modern day technological advancement has made homemade tests an easy feat.

Learn to recognise the symptoms of pregnancy:
If your menses have been delayed by more than 10 days beyond the due date and you were sexually active
Morning sickness like sick feeling and vomiting
Urinating more than usual
Feeling tired and lethargic
Increased vaginal discharge
Mood Swings
Constipation

However, the above mentioned symptoms may show up for other causes too. It is important that if your result is negative then you should visit a doctor to discuss other possibilities.

Home test for Pregnancy:
You can get home test kit for pregnancy that takes urine sample to determine pregnancy. Always remember to keep the kit in a cool and dry place and also only use your first morning urine to get your test results. Take the card and place it on a flat surface, then put a few drops on the card using a dropper that comes with the kit. Then observe the result window. If the result window displays one coloured (red colour) band on "C", then your pregnancy result is negative. If it displays two coloured bands parallel on "C" and "T", then the result is positive. Of course positive result would mean that you are pregnant and negative would mean that you are not.

You can also opt for the pregnancy strip that you get to purchase from any drug store. Take the card out and dip it into your first morning urine after having collected the urine in a container. After you immerse wait for 3-6 seconds then take the strip out and place it in a flat surface. Just like the previous one, the result will be positive if it displays two coloured bands and negative if it displays one coloured band.

In other cases you can also visit a doctor for an expert medical confirmation. But generally the home tests do not go wrong. Try and do the things correctly and most times t will give you a good result. Remember to collect the Urine in a clean, dry container and always the early morning sample of urine is preferred.

Read more articles on Pregnancy