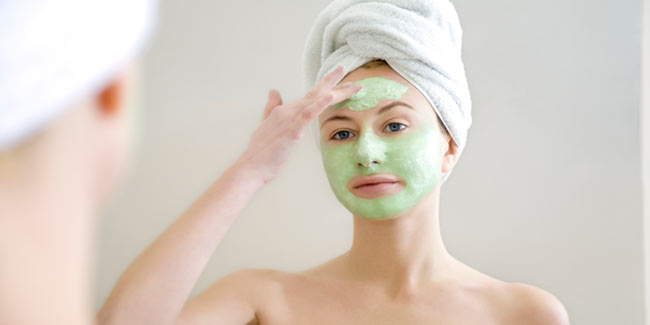 Here is list of homemade face packs that helps you in maintaining the tautness of facial skin along with deep cleansing the skin on the face and neck area.
Our face is our identity and most of us would be willing to go that extra mile to make it more beautiful.



Home-made face packs help in maintaining the tautness of facial skin along with deep cleansing the skin on the face and neck area. Try these winter special.
An avocado mask: It is perfect for dry skin. It is easy to make: mash the flesh of avocado with a fork, add a touch of extra-virgin olive oil, and apply this smooth, fragrant mixture onto your face.
This nourishing mask will supply your skin with a whole range of vitamins, minerals, antioxidants, and softening agents to fight winter dryness.
Cultured milk mask: It is a simple and effective cure for tired skin.
Just apply a bit of natural yogurt, buttermilk, sour cream on your face avoiding areas around the eyes. Relax for 10-15 minutes and rinse your face with cool water.
This mask softens, rejuvenates, and restores natural pH balance of your skin, thus, protecting it from negative influences of winter air.
Banana mask: If you have combination skin and suffering from winter elements, try a softening banana mask. Mix mashed banana with fresh sweet cream and apply this wonderful mask all over your face for 30 minutes. It will smoothen, soften, moisturise and nourish your skin whenever necessary and will make you forget about the cold, harsh, and nasty winter outside!
Papaya pulp remedy: Rub this pulp on your face gently and your skin will be polished freeing it of all impurities that cause pimples, spots and black heads. This homemade face pack for oily skin is probably the fastest to make and use, without much hassle.
Blend of raw garlic juice and fresh lime juice: This is a "quick fix" for your skin if you have persistent pimples on your face. Simply apply the blend on them. Apply this blend once a day and it will remove and reduce the formation of face pimples quickly. A word of caution is that you should be ready to hurt from the blend sting, but just a little. This home-made face pack for oily skin is for those in a hurry to achieve a pimple-free face within days. Try it!
An apple a day: Blend half an apple into a puree, add two teaspoons of honey and squeeze in a capsule of vitamin E. Mix well and apply for 10-15 minutes.
Carrot-honey scrub: Wash and peel a medium-sized carrot and blend in a mixer along with two teaspoons of honey. Add a teaspoon of coarse rava (semolina). Scrub off with circular movements of your palms after about 15 minutes. This works as a skin conditioner while exfoliating your skin.
Orange-yogurt mask: Whisk three tablespoons of full cream yogurt with three teaspoons of orange juice. The lactic acid in the yogurt helps peel off dead skin cells and is a whitening agent. The orange juice acts as a skin toner, tightening up open pore.
Pumpkin-egg yolk nourisher: Take a two-inch cube of ripe orange pumpkin and puree it. Add an egg yolk and blend well. Egg yolk contains vital nutrients that nourish the skin and pumpkin is a rich source of vitamin A.
Grandma's sandal pack: The age-old recipe for beautiful skin, sandalwood paste does indeed work wonders. Crush a small piece of sandalwood till you get half a teaspoon of brown paste. Mix this with besan (gram flour) and a few drops of milk to make a thick paste. Apply over face and neck and leave for 15 minutes. Use these packs at least twice a week for best results.
Read more articles on Skin Care.