Charlotte Bronte had once said, "Flirting is a woman's trade; one must keep in practice". The trade is an old one which is still practiced to this day, and is in fact popular among men too. Find out if you know all the signs that are moving between you and the other person, and know what can be turned as flirting.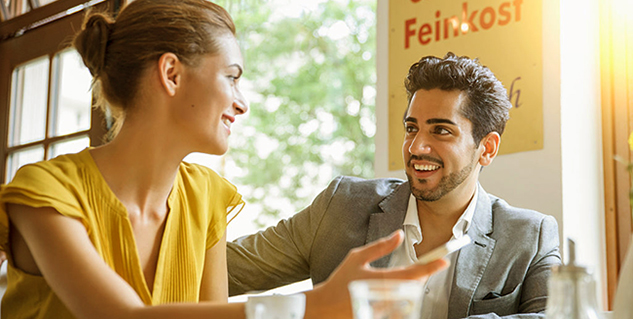 You might think of yourself as someone who does not know the first thing about flirting, but much to your surprise you will find out that flirting comes natural to you. It is just that we begin to behave in a different fashion when we tend to meet someone we like, it is not being presumptuous, but more like trying to attract the other person. Your physical reactions change, your body tends to be a threat to you, and what a shame it is when the other person is aware of your flirty nature!
The Signs
When having a conversation with someone attractive and interesting the next time, you must be careful to note these signs of flirting. There are chances that these signs and signals are flying like sparks between the two of you! Also, don't take stress; enjoy it while you are young and full of life.
Touching
This is the most common sign of flirting. When a girl is touching a boy slightly, subtly, and very unnecessarily you should know that this is a sign of flirting, this can of course also happen vice versa.
Closeness
If your friend is being too close, again for unnecessary reasons then you should be alarmed. Whispering into the ears and standing or sitting too close to you, leaning forward when talking, all these should be considered sure signs of flirting. These are ways to get intimate.
Show off
Of course this is a classic way to flirt and get attention of other people. Girls are always trying to dress to the best of their ability and show off their physical features and men are doing the same by showing off their dominance and stability in life. If your friend or acquaintance is trying to show off a bit too much in front of you then you should take that as a sign of flirting!
Checking you out
If he or she is into you then it would be difficult to take the eyes away, fixation is the word! Somehow everything you do would look beautiful to the other person and he or she will never lose a chance to check you out. You might find it a little intimidating, and you cannot really do much at such a situation except being there as an exhibit to feast the eyes of the flirt!
Lot of smiling
People who are flirting are always smiling; there is no end to joy! The silliest of jokes can make them laugh, giggle, fall on each other and simply behave like drunks. When you see a couple doing so, you know they are on flirt boat.
Shower of compliments
Men and women who flirt are always showering each other with compliments. You will know that when you meet him or her wearing some very dull coloured t-shirt and you will be told how awesome you are looking. This type of flattery is common for a flirt.
Excitement
When a person likes you he or she will devote much of his or her attention on you. He or she will be very excited to be with you, and there will be a tone of exaggeration if you bump on to such a person, it is way too evident. He or she even might want to tag along with you or ask you to hang out with him or her sometime soon! The flirt never tires of such tricks.
Blushing and feeling shy
Blushing is a main sign in a flirty conversation, thanks to all the compliments and touching. The girl usually feels flattered and is most often very shy when the guy makes his moves; sometime it's the guy who feels shy feeling that the girl is closing in on him!
Sparkling eyes
The eyes never lie, and so in a conversation laden with flirty playfulness, you will find that the eyes of both the girl and boy are sparkling with joy and excitement. The wide eyes of love struck boys and girls are so clearly a proof of flirting.
I am single
This they won't tell you directly, but instead will make you realise time and again in various way. It is one of their primary aims to make it clear to you that they are single and are interested to date someone, get the hint! Either run for your life or submit to the sweet musings of the interested one.
Flirting is a form of courtship, it is a trial and error work that may work on some and may not on others, and the result is only a matter of time. Love is a drug as they say which is often blinded with the intervention of your heart. We advise you to go all on with it, flirt, and court, make her or him yours and fall in and out of this blindness.
Image: Getty

Read more articles on Dating