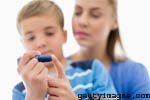 Swine flu through its signs looks just like any other flu infection, but it is much worse and even life-threatening in children. If your child is diabetic and running the risk of swine flu, here is what you should do.
The recent outbreak of H1N1 (swine flu) virus causes symptoms similar to those of seasonal flu such as fever, chills, headache, upper respiratory tract symptoms (cough, sore throat, rhinorrhoea/runny nose, shortness of breath), myalgias (muscle aches), arthralgias (joint aches), fatigue, vomiting and diarrhoea.
In most people, the illness is generally mild and self-limiting, but fatalities can occur. The risk of severe disease or complications is higher in people with chronic illness such as diabetes, and kidney disease especially in younger children and elderly.

Swine flu and diabetes in children
There is no association between diabetes and swine flu and there is no greater likelihood of developing swine flu in children with diabetes, but they are at higher risk of complications of swine flu. Diabetic children with swine flu can become very sick and may even have to go to a hospital.
Infection with H1N1 (swine flu) virus can worsen the blood glucose control (that is raise the blood glucose). It can prevent your child from eating properly, which also affects blood glucose.
Diabetes, swine flu and insulin
Do not stop the medications (insulin or diabetes pills) without consulting your doctor. The medications should not be stopped even if your child is not eating. Consult your doctor for advice regarding diabetes medication. Your doctor may increase the dose of insulin as any infection tends to worsen blood sugar levels.
Check the blood glucose every four hours or as recommended by your doctor and record the results.
Give your child plenty of fluids and encourage him to eat as normally as possible. If needed give soft foods and liquids which contain the equivalent amount of carbohydrates that your child usually eats.
Weigh your child daily as weight loss can be a sign of high blood glucose.
Diabetes, swine flu and vaccination
According to experts, people with either type 1 or type 2 diabetes (older than 6 months) should take the flu shot. The current seasonal flu shot offers protection against the H1N1 virus as well. The best time to get vaccinated is October and mid-November; before the flu season starts.
Use of nasal spray vaccine in people with diabetes is not recommended.
As diabetes increases the risk of developing pneumonia from the flu, pneumonia (pneumococcal) vaccine is also recommended for these children.
Read more articles on Swine Flu.