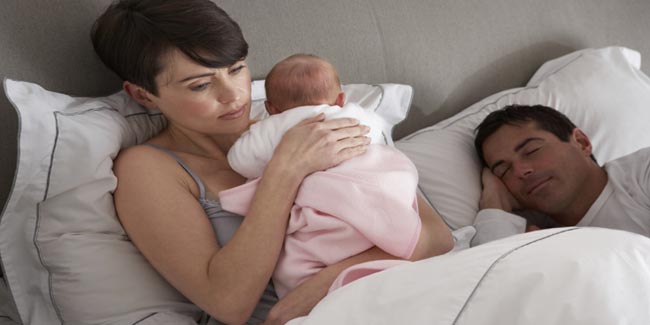 With every week of pregnancy, you may start experiencing new nerve-wrecking changes in your body and mood. After labour and delivery, you may feel that troubles are over, however, you are not entirely correct. Post-pregnancy, you might not expect some weird body changes, but there are all sorts of surprising changes in your body, about which your doctor or midwife never tells you.
Bleeding Gums and Wobbly Teeth
Your doctor might not tell you that post-pregnancy your dental health deteriorates. This is because level of calcium in your body reduces as you breastfeed your baby. Your baby uses maximum amount of calcium present in your body. To prevent loss of teeth and bleeding gums, incorporate more calcium sources, such as milk, yoghurt, tofu, fruits and green and leafy vegetables in your diet. Increasing the level of vitamin D in your body can help in maintaining good dental health as it helps in efficient absorption of calcium, preventing loss of teeth.
Hair Loss
The rate at which you'll lose your hair post pregnancy may frighten you. During pregnancy, your hair fall is stalled due to increased level of oestrogen. But once you deliver, production of pregnancy hormones stops and as a repercussion, you gradually start losing hair. This continues until your baby turns six months old. To prevent thinning of hair, start adding plenty of fruits and vegetables in your diet. You can continue taking your prenatal vitamin supplements. Avoid harsh hair treatments and do not make tight braids.


Bladder Control Problems
The crappiest bodily change after childbirth is experiencing wet panties after a bout of sneezing or coughing. To deliver a baby, pelvic muscles have to overstretch. This leaves them injured or sometimes, or they become loose. Due to this, muscles find it hard to support the bladder or keeping the urethra closed, leading to insufficient voluntary control on urination. To strengthen your pelvic muscles, take the help of kegel exercises. Use sanitary napkins until the muscles are tightened again.


Imbalanced cycles
Learning this might surprise you that your first period after delivery can take as longer as six months to appear after weaning your baby. After delivery, periods become more irregular and the bleeding can be heavier or lighter. They will be more painful and will be longer than normal periods. Arrival of your first postpartum period indicates that your hormones and ovulation have normalised.


Vaginal changes
Experience of postpartum sex can be different due to some vaginal changes after delivery. Vaginal dryness increases and it becomes more sensitive, especially if a woman has had caesarean section. The elasticity of vaginal muscles reduces, lowering the satisfaction from sex. Vaginal dryness continues as long as mother breastfeeds her baby.
Read more articles on Pregnancy Exercises.