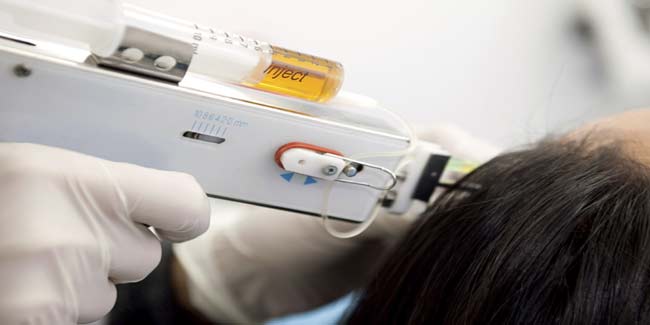 Hair surgeries are becoming an easy way to get some hair back on your head. You should analyse what is best for you and take your pick.
Hair loss can be due to many reasons, which includes stress and usage of chemicals. If you are having a hard time to maintain hair on your head then here are some options for you.
Hair surgeries are becoming frequent these days. All the chemicals that are present in the various cosmetics are causing the hair line to reduce, thus causing men and women to opt for surgeries in order to get some hair on their bald head. Here we have listed three such hair surgeries for you to choose from, the kind of hair surgery you choose depends on your need and the kind of result that you are expecting from the surgery.
Hair transplant:
At first, an initial analyzing is done to the patient's scalp and thereafter he or she is asked about preferences and expectations. There are various approaches that one gets to choose from and these are laid out in front of the patient. The operations are performed with the help of mild sedation and injected local anesthesia. This anesthesia lasts for about six hours. The patient's scalp is shampooed and is treated with anti bacterial agent before the donor scalp gets harvested.

The doctor removes small grafts (pieces of skin with active hair follicles) from areas of the scalp with full hair to areas of your scalp where hair are thinning or balding. Advancement in techniques of hair transplant has taken place over recent years, if done correctly, results look natural than the planted look of the yesteryears where hair would grow in straight lines.

Results can be seen in less than a year but more than one sitting is required for the complete surgery with around nine to twelve months gap between each sitting. There is a small risk of infection in this surgery, as with any other surgery, but otherwise it is relatively low-risk in nature and is undergone under local anesthesia.
Scalp reduction
This surgery involves removal of large areas of bald scalp from the head. Sections of hair-bearing scalp are stretched and sewn together to replace the bald scalp. Scalp reduction surgery may not be a good choice for scalp skin with little laxity (stretching ability).

Patients who are not suitable for hair transplantation because they haven't lost too much hair go for Scalp Reduction Surgery. The surgery involves the removal of parts of the already bald scalp and is then followed by the stretching of the parts of the scalp. In this surgery the already bald scalp parts are removed by stretching of the parts of the scalp which still has new hair growing on it. After stretching the scalp is moved to a higher position on the head. Those patients who with excellent hair on the sides and back of the scalp are just very suitable for this procedure, as the hair can be stretched upward to cover the bald scalp that is to be cut.

The surgery would leave scars on the bald areas of the scalp.

Scalp flaps
Scalp surgery is performed on a frequent basis and is most popular surgical procedure for reducing the balding area. The procedure cuts out some or all of the patient's bald spot. This procedure can prove to be very good if it is conducted on the right patient by the right hands.
This surgery involves relocating a large section of hair containing scalp from the side and back of the head to a bald area. One side of the flap remains attached to the scalp as the section of the scalp with hair is moved to cover a bald area. It is a very invasive surgery. Complications such as bleeding, scarring and infection after surgery can arise.

Surgery for hair loss should be well researched so as to make sure that you are opting for the right surgery.

Read more articles on Body Surgeries