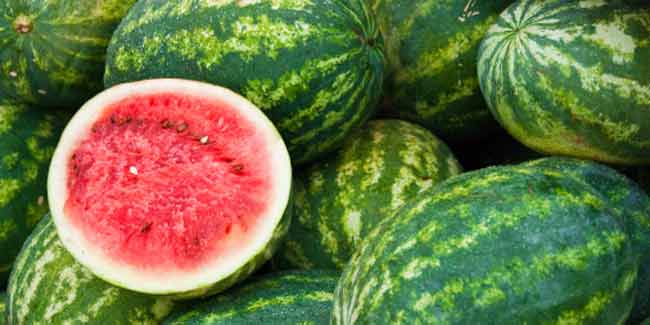 Most fruits and vegetables are seasonal. Here are a few vegetables and fruits that are specifically found in summer.
Summer fruits are vegetables are those that are abundant in the summer season and almost scant in other seasons. Here is a list of summer fruits and vegetables.
Fruits
Pear
Pears may not be so good as apples, but one pear has more fibre than there is in apple, a comparable level of vitamin C and few calories and carbohydrates. When you pick pears at the fruit store, make sure that they have a pleasant fragrance and a soft stem end.
Pineapple
Pineapples are popular summer fruits that are dense with vitamins, enzymes and anti-oxidants. It also is an all-body anti-inflammation cocktail that protects against colon cancer, macular degeneration and arthritis.
Mango
Mango is a natural coolant that is packed with vitamins A and C and beta-carotene that may help in preventing cancer and promoting healthy skin.
Watermelon
Dense with water, watermelon not only helps in intoxicating the body, it also helps in protecting the heart. The scientists at USDA found that people, who drank about six 8-ounce cups of watermelon juice everyday for over 3 weeks experienced 22 per cent increase in the level of arginine in their body. Arginine is an amino acid that boosts blood flow in the body.
Coconut
Coconut contains several health benefits such as that of reducing the risk of heart diseases. It is a popular summer fruit that can be found in almost all the grocery stores.
Vegetables
Avocados
Avocados are high in good fat and are a good source of potassium, vitamins C and B6, folate etc. They are also a good source of riboflavin, thiamin, magnesium and niacin. It also helps in the absorption of healthy carotenoids.
Eggplant
Although, eggplants may be assumed to only be purple in colour, they are available in a variety of colours from near-translucent white to light green. Egg plants are packed with excellent fibre content several phytonutrients.
Mushrooms
The common types of mushrooms found in summer include porcinis and chanterelles. Mushrooms are low in fat and sodium content and have high levels of riboflavin, potassium and niacin.
Shallots
Of all the vegetables in the onion family, shallots have the highest concentration of antioxidants. They also have anti-bacterial, anti-allergic and anti-inflammatory properties.
Zucchini
Zucchini form the freshest and most plentiful of vegetables that are available in the market. These are an excellent source of vitamin C, manganese, dietary fibre, vitamin A, copper, folate, and phosphorous.
Image courtesy: Getty Images
Read more articles on Healthy Eating.