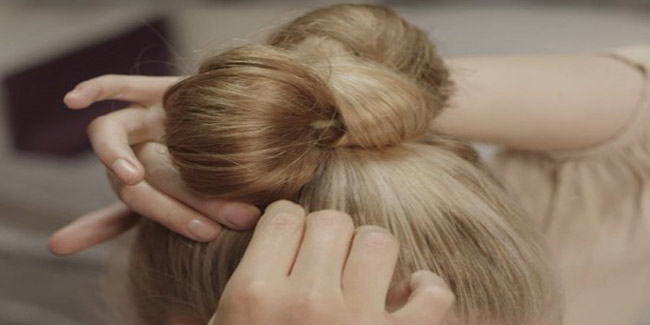 The perfect bow bun hairstyle looks great, however it becomes tough to be made with short hair. But don't worry because there are some quick tricks that can give you the perfect bow buns irrespective of your short hair.
Your current hairstyle may be perfect but who can resist the temptation to try a new trending hairstyle? The bow bun hairstyle looks very simple and nice but since the likes of Lady Gaga have flaunted the hairstyle, it has become one of the trends in demand these days. If you are wondering how to make a bow bun hairstyle, gather a comb and hairband to get started with the steps.




The hairstyle is not that difficult to make for girls with short hair, however it is more suitable for long hair. Women with shorter hair may find it difficult. But the truth is that you can get the bow buns even with your short hair.
Step 1
You need to get your hair smooth without any knots. If there are knots in your hair you may find it even more difficult to get the proper bow bun with your short hair. So take time to properly comb your hair and make it smooth.
Step 2
Now it's time to tie your hair into a high pony like you normally do using an elastic band. Now hold the elastic and grab your hair near the crown. The place you hold will affect the position of your bow. Whil holding the hair, pull some out like you normally do for a pony.
Step 3
Right when you are taking your hair out of the band, hold still when you have almost taking your hair out all the way through. Now, make a loop so that it also leaves some of the hair under the band. This is the most important step as it will determine how your bow bun hairstyle looks, so take your time and do this simple step correctly.
Step 4
Now you have a loop ready on your elastic band. Turn this loop into two equal loops and take the hair that are still under the band and pull them upwards through the centre of the two loops. Slightly twist your hair at the center to secure the position of the loops and hold it steady with some pins. Make sure that the hair is secure.


Step 5
Now adjust the loops with your hands. Just comb a little to enhance the hairstyle to get the perfect bow shape. Your bow bun hairstyle is ready. Apply some hair spray to hold the hair and put on a hair accessory such as a flower to enhance the look.

The bow bun hairstyle is ready. It may take some time to get the perfect bow buns however with patience and practice you will learn to make it in no time. It is one of the simplest hair styles that stands out and enhances your overall look and appeal.
Image Courtesy : Getty
Read more articles on Hairstyles