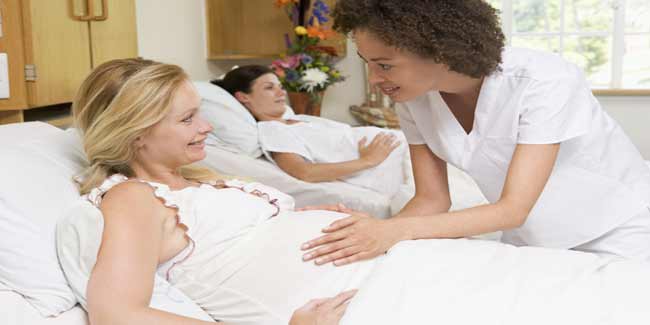 If you thought that the nine months of pregnancy was difficult, then think again! The labour, panting, pushing and recovering that will finally deliver your baby could be very emotionally draining.
There are three stages of labour and delivery. The first stage begins as soon as labour starts and end up till the cervix stretches (efface) and opens up (dilate). Second stage is also known as 'pushing stage' wherein cervix fully dilates and baby is delivered. The last stage of labour and delivery ends with separation of baby from placenta.
First Stage of labour and delivery
First stage of labour and delivery (childbirth) is divided into two stages .i.e. early labour and active labour.

Early labour
You are in to early labour, when contraction starts to occur at regular interval and cervix constantly efface and dilate. During early labour contractions will become stronger and longer. However, experience of labour varies from person to person but usually they can occur after every 10 minutes and last for 30 seconds. Eventually, they will come after every 5 minutes and can last for 40 to 60 seconds. The contractions may become more frequent as the women reach end of early labour. If you are less than 37 weeks pregnant and experiencing contraction or the other signs of labour then it can be due to preterm labour, immediately call your doctor. Early labour or latent stage ends when the cervix is dilated to 4 cm and your progress starts to accelerate.

Active stage
When you are in active labour stage, the contractions will become longer, stronger and frequent. The cervix will expand from 4 to 10 cm and even baby starts to descend in some of the cases. At this stage women are given oxytocin to speed up the active stage. Generally it takes 8 hours for women to go from 4 cm to full dilatation. Women who already had vaginal birth have shorter active stage.

The last part of active stage is also known as transition, as it marks shift to second stage of delivery. This can last from few minutes to few hours.


Second Stage of labour and delivery
In the second stage of labour the baby is delivered. Also known as 'pushing stage', it starts when the cervix is fully dilated. In beginning the contraction occur at longer duration, thus giving you chance to relax and take rest in between. If your baby is low you may feel urge to push early. Most women are of view that, in comparison to first stage it is easier to handle second stage of labour.

At this stage the uterus contract and push the baby towards birth canal. Pregnant woman is asked to push with every contraction to speed up the baby's decent. It is important to follow the instruction of your doctor.
Third Stage of labour and delivery
This stage starts with baby's birth and ends with delivery of placenta. This stage last for only 5 to 15 minutes. After delivering the baby your contractions will stop for a while and the resume to deliver placenta.
The stages of labour and delivery could give you a great deal of trouble, but that will soon diappear once you see your newborn in your arms.

Read more articles on Pregnancy and Labor