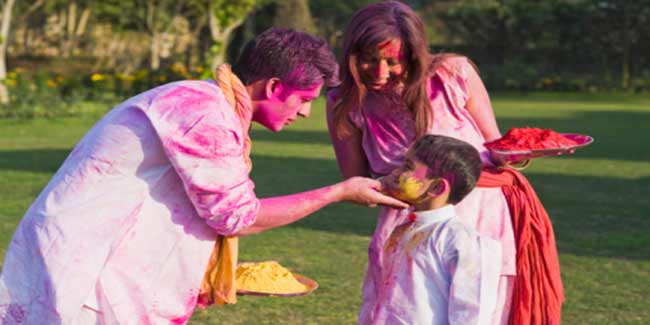 Holi is the festival of colours and unrestrained joy. The joyous celebrations invariably reach such frenzy that at times skin problems do occur. This is especially true if you do not come prepared for it.
Instead of natural colours made from flowers and nontoxic substances, what we get these days are industrial dyes, acids, heavy metals and powdered glass. Nothing can be better if you can manage to get natural colours to play with on Holi, but it is hardly possible. It becomes imperative to protect your skin from the harmful chemicals, so that they do not cause any harm. These skin care tips will surely help you to protect any skin damage coming Holi:
Wear clothes that can cover maximum part of the body. A swimsuit or waterproof tights beneath your clothes would protect your body from the harmful effects of chemicals present in the colours.
Apply oil or moisturiser all over your body and allow it to be absorbed by the body for 15 minutes.
Soak your hair liberally with quality hair oil so that all colours slide away when you sit down to remove them after the day is over.
Other than oil, you can also apply lip balm for extra protection of your lips.
Use Vaseline for your nails. Apply it beneath the nails and also over it. This prevents permanent staining of your nails and adjacent area.
Prefer red or pink colours for playing Holi, because they can be easily removed as compared to colours like yellow, green, orange or dark purple, as they have comparatively more harmful chemicals in them.
While playing with colours, ensure that your eyes are protected all the times. If any colour happens to get into your eyes, do not take it lightly and keep washing with water till the irritation subsides. If it still persists, seek medical advice from a doctor.
Use dental caps to prevent the teeth from getting stained with coloured dyes that do not go off.
Always be vigilant when people hurl or smear colours on your face. Try to discourage such acts and if that is not possible, shut your eyes immediately.
Tips for skin care when removing colour
For removing colour from the skin, a mild moisturizer soap with lukewarm water works best.
Avoid strong soaps, petrol and kerosene for removing colours because they can cause skin irritation.
Apply moisturiser on the body immediately after taking bath as the skin gets dehydrated and dull after washing off the colour.
Avoid rubbing your skin with a hard and rough brush as it can cause rashes.
To lighten the colour on your skin, rubbing lemon wedges followed by a mixture of wheat flour and oil is a good option.
For getting rid of traces of colour left, make a paste of gram flour (besan) with milk and apply it on the skin.
Those who have acne should wash their face with Cetaphil cleanser and use antibiotic gel like Clindamycin gel. Later, apply a mixture of glycerine, sea salt and a few drops of aroma oil or almond oil on skin to prevent irritation.

Follow these tips and keep your skin happy this Holi!


Read more article on Skin Care.