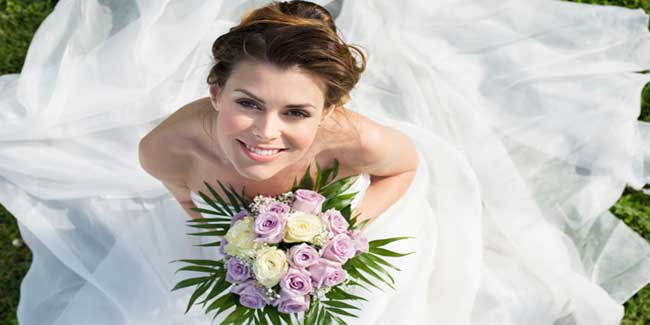 Today's fast and modern times see outer beauty taking a leap ahead of its inner counterpart. Silicon is one such available option to attain the desired bridal look.

"Beauty lies in the eyes of beholder" is an old maxim and has been a strong belief of the society, but in today's modern and fast moving world, the outer beauty has taken a leap ahead of its inner counterpart. Hence, the need to beautify oneself using different products and techniques. One such product is silicon, which is said to be the new arm in the repertoire of a woman's beauty kit. The use of gold and silver make-up is passé. Envogue is a natural, trendy, flawless and elegant look, achieved best with silicon make-up.

Nowadays, silicon is not just limited to cosmetic surgery rather it has completely revolutionised the art of make-up. These days bridal make-up is being fortified with Silicon by beauty experts. Silicon make-up has surfaced as a blessing for girls who have a skin not entirely free from blemishes, marks and spots. It completely hides skin blemishes, marks, spots and fine lines over the face. Its healing properties help to lighten up the marks and give a very natural, beautiful and a matchless perfect look.

Silicon make-up is also called Micro Make-up as only a very thin layer is applied which blends well with the skin and gives a natural tone to the face. Bridal make-up expert Simmi Ghai of Xpressions Beauty Studio says, "Silicon has now become a very important part of the bridal make-up. It makes the bride look very beautiful, charming, fresh and gorgeous. Marriage is a very special occasion which comes once in a lifetime. The D-day is very special for the bride and bridegroom. Each one of us wants to look their best. Silicon make-up gives different dimensions to the looks of the bride; it gives her a very fresh, most elegant and beautiful look." She further says, "Silicon make-up has completely revolutionised the trends in bridal make-up."

As used only in thin layers, silicon make-up doesn't blocks the skin pores and stays for about 15-17 hrs. And that adds up for sure considering brides have to last out in their bridal glory for long hours. An expert in the use of silicon make-up, Simmi Ghai suggests make-up that lends a natural glow but never too coloured. Silicon make-up is skin-friendly, water-proof, sweat-proof, very long lasting and transparent. It is not hypoallergenic.

It gives a very refreshing, revitalised and a photogenic look to face. Simmi says that before applying any make-up the skin should be well hydrated and moisturized as it helps in giving a natural look to the applied make up. "Remember, there is a similarity between a make-up artist and a painter. So, the skin has to be clean like a canvas, so take some facial sittings if required before your D-day," sums up Simmi.
Read more articles on Skin Care.