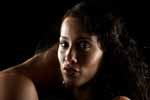 Every man keeps a secret from his woman, and this is the universal truth. If you think you know your partner all too well, run your final check through these nuances that he made sure you never got close to.
The equation of relationships is a difficult one to solve. Most men in lieu of keeping up with their macho act do not really reveal themselves to their woman and before you object, you should know that this is true for most men. The truth is that you do not know your man all that well and sadly, you probably never will. Men will never reveal their true self to a woman; it is too much of a pride dampener!
[Read: Things to Know about your Man]

Here are the top six secrets men keep from women:
The Sentimental Fool: Girls may think that men do not really bother about romance when it is actually the contrary. Yes, men can too shed a tiny drop of tear on watching The Notebook, it's just that you were too busy crying a river lady that you didn't notice.
They don't like saying I love you all the time: Your man loves you even when you think that cannot be true. Your perception has gathered from the fact that he seldom says 'love you', but hey, look at all that he has done to prove that he does love you! Men do not like saying 'I love you' with words, they would rather spend a day trying to get you a perfect evening dress and show their love.
Commitment is a serious issue: Most men look like they could do without a relationship and their face beams with a hint of infidelity. Sorry, but you do not know men all that well after all as men are very serious about commitment. Well, most are! This is also the reason why men take longer to commit to someone (unlike women) as they need time to figure out whether you are the right one or not.
Men are hurt more: Believe it or not, but your man gets hurt more than you do. So what if he does not call all his friends home and spends a fortnight whining, complaining and shedding tears of sorrow? The worst part is that being the man that he is, he will probably go to the toilet to shed uncontrollable tears and no one will ever know.
[Read: Men Hurt More than Women after Breakup]
The All Boys Time: You may think that your man is probably the holiest of them all; he never ever goes for a night out with his buddies or plays a game of football on Sundays. No, he is either with you or at 'work'. Yes, work! Don't fool yourself lady, every man needs his guy time and during that time, he gets drunk, stoned, dances, fights, watches football games and does the whatever he wants.
All in all, you should be able to understand that a man always treasures you most in his heart no matter what happens. Even if he meets his childhood crush whom he always fantasised about or checks out Kate Upton on the television screen. Oh, did we tell you men are always checking out other women? Oops, probably too much information there already.
Read more articles on Sex and Relationship.