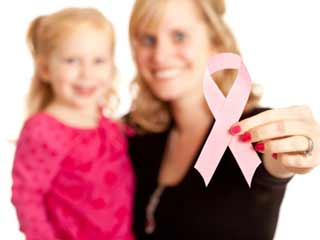 Breast cancer doesn't take your life, but can take away a lot of other important things. Becoming a mother is the most wonderful thing that can happen to a woman, but can she conceive after surviving breast cancer? Find out.
According to some researchers studying the effect of breast cancer on the risks of getting pregnant in women, it is safe to have a baby after being diagnosed with breast cancer. They said that being pregnant can actually increase the lifespan of women who have breast cancer. Earlier, it was considered that pregnancy would lead to increase in the level of female sex hormone oestrogen in the body and this would cause breast cancer to return, as the disease is associated with the rise in level of oestrogen.

These doubts have been laid to rest by a study carried out by a research team at the Jules Bordet Institute in Brussels. It claims that it is safe for women to get pregnant in the first 2 years after being diagnosed with breast cancer. The research team was led by Dr. Hatem Azim, a medical oncologist at the institute. They enrolled 333 women with ages ranging from 34 to 48 and monitored their oestrogen receptor status (positive or negative) along with disease outcome.


These women had become pregnant after being diagnosed with breast cancer. The condition of these women was matched with a control group of 874 similar patients of breast cancer with the difference that they had not become pregnant.

Furthermore, the study revealed that patients who become pregnant appear to survive longer than those who dont, although independent experts claimed that further research is needed in this area, the Daily Mail newspaper reported. They had become pregnant at any time following diagnosis and were in remission at the time they conceived. The findings of the study showed that breast cancer patients who became pregnant survived for longer duration before seeing their disease come back. This compared much more favourably with the result of women in the control group who did not become pregnant.

Another important finding of this study was that the increased duration after which breast cancer returned in patients who got pregnant was not affected by breastfeeding, miscarriage or even abortion. Dr. Azim advised that doctors should not advise women with a history of breast cancer to abort their child as pregnancy does not have a detrimental effect on the condition of the disease, as believed earlier. He stated that the outcome of breast cancer would be similar, regardless of whether pregnancy completed the natural course or not.

Some sceptics of the research by Dr. Azim's team, such as Professor David Cameron at University of Edinburgh, say that the research is important but cannot be taken as definitive proof for the conclusions being drawn.

Images: Getty

Read more articles on Conceiving.