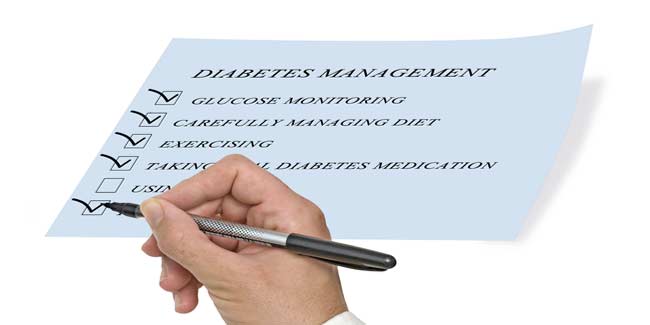 According to International Diabetes Federation, 382 million people had diabetes in 2013 worldwide and this figure is estimated to go up to 592 million by 2035. By 2030, India's diabetes numbers are expected to cross the 100 million mark.


There are several factors which increase your risk of developing diabetes. Some of them are modifiable like lifestyle, and eating habits where as other cannot be changed such as age, family history and genetics.

Your risk of developing diabetes is increased if:
You are older than 45 years.
You have history of diabetes during a previous pregnancy.
You are obese or overweight (especially around the waist).
You have family history of diabetes.
Your blood triglycerides levels (a type of fat molecule) lie in the unhealthy range.
You have unhealthy high blood pressure levels (greater than or equal to 140/90 mmHg).
You have impaired glucose tolerance or insulin resistance.
You have a sedentary lifestyle.
You have metabolic syndrome.
You have polycystic ovarian syndrome (PCOS).
If you are above 45 years of age, you should get blood sugar (glucose) tested regularly (at least every 3 years). You should get your blood sugar tested more often if you have several of the aforementioned risk factors.
What can you do to decrease the risk?

Factors such as age, family history and race are uncontrollable but you can lower your risk of developing diabetes significantly by making slight modifications to your lifestyle like modifying your diet and physical activity.
Below are some steps that can help you lower your risk of developing diabetes.
Lose weight – If you weigh more than you should, as per the BMI index, try to reduce your weight and aim for a healthy body weight.
Engage in physical activities – If you have a sedentary lifestyle, it is important that you engage yourself in physical activities or sports. Do moderate physical activity for 30 minutes to keep blood sugar levels in the healthy range.
Eat healthy – Eat a well-rounded and healthy diet, based around each major nutrient. Moreover, you need to take care of your portion sizes. Do not take more calories than required.
Cut back on refined carbs and sugary drinks – Carbohydrates such as white rice, white pasta and potatoes can elevate blood sugar levels. Likewise, sugary soft drinks, fruit punch and fruit juice can make your blood sugar drop or rise. When at high risk of developing diabetes, you must switch to whole grains and skip the sugar.
Diabetes prevention is all about eating more healthfully, becoming physically active and losing a few extra pounds. Lifestyle modifications can decrease, prevent or delay development of diabetes. So make healthy lifestyle choices. Small changes to your lifestyle can make a big difference. Consider the aforementioned and make a move. It's never too late to start.


Read more articles on Diabetes.