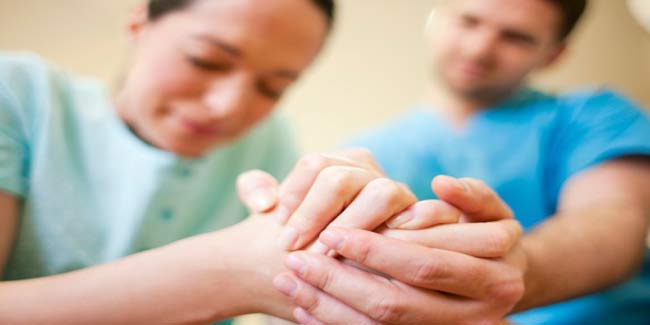 Know some useful relaxation and breathing techniques to cope better with labour. These techniques help you to relax and effect those changes in the body that help during contractions.
Breathing in a rhythmic fashion during labour can maximise the amount of oxygen that is available for your baby. The techniques during breathing can help you to handle contraction and you could be more satisfied about how you have coped with labour.
Pregnant women can practice patterned breathing during pregnancy to help their labour. Some prefer to draw in air completely to fill up their lungs and abdomen together while others inhale just enough to fill their lungs. The purpose is to get them relaxed and not so much the kind of relaxation technique. Concentrating on filling the lungs does tend to increase your lung capacity though.
Breathing Techniques during Labour
Slow Breathing
If your contractions are so intense that it becomes impossible for you to walk or talk, begin slow breathing. Keep at the slow breathing till the time you feel it is not helping you much. You can keep swapping one pattern of slow breathing for another, anything that relaxes you during contractions.
Be conscious of the start of your contraction and give out a big sigh as soon as it begins. Visualise giving up all tension with the exhale. From head to toe, let go of all tension.
Focus your attention.
Gently inhale through the nose and exhale from the mouth, as though allowing all the air to go out with a sigh.
Do not inhale until your lungs feel like drawing the air.
Focus on the tension that you are feeling in any of your body part and relax that part of your body with every exhalation.

Light Accelerated Breathing
Most women feel like shifting to some sort of light breathing during the active phase of labour. The intensity of your contractions should decide whether you should start light breathing or not. Now, you should inhale and exhale rapidly at the rate of one breath per second. The breathing should be light and short. Breathe in a way such that inhalations are quiet while exhalations make a distinct sound.
Take a breath to organise your contractions. As soon as they begin, give out a big sigh and release all your tension with the exhale.
Focus your attention.
Breathe in normally through the nose and breathe out through the mouth. You need to accelerate your breathing to match the intensity of your contraction. That means if the contraction happens to peak early, so should the acceleration of your breathing. If the contraction peaks normally or gradually, speed up the breathing gradually. While performing this type of breathing, your mouth and shoulders should be relaxed.
Your breathing should be light and shallow and close to the rate of one breathe per second at the peak of your contraction when you will need to shift to breathing through mouth.
When the contraction's intensity declines, slow down your breathing rate and go back to breathing through nose and mouth as explained earlier.
When your contractions end, finish your breathing with an exhaled sigh.

How to Avoid Pushing at the Wrong Time through Breathing
There are times during labour and delivery (childbirth) when you feel like pushing and exerting your weight down on the uterus when it is not the time to do it. Women try to avoid this situation by holding on to their breath in these difficult times. It is not the right thing to do. Instead you should breathe in and out regularly or panting after raising the chin. This will allow you to stop the exertion of your body that is already happening.
Take help from doctors and your midwife in case you are struggling to cope with it.
Read more articles on Labour and Delivery