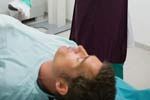 Prostate cancer radiation therapy side effects: The side-effects of prostate cancer radiation therapy can be nausea, fatigue, darkening of skin and many others.
In prostate cancer radiation therapy, very high levels of radiations or x-rays are used for killing the cancer cells. It involves directing radiation to the body parts affected by cancer with the help of thin plastic tubes. Despite best efforts on the part of doctors, it is impossible that only cancer cells get destroyed. With the damage to healthy cells, many unwanted side effects are inevitable.
Read : How to Exercise After Prostate Cancer Treatment
Some side effects of radiation therapy for prostate cancer are:
• Skin can get damaged in the area that is exposed to radiation. It can become swollen, red and sensitive, in much the same way as a sunburned skin. You may also notice it peeling off or become tender and moist.

• Loss of hair and reduced perspiration on the affected area is also common. It depends on the dose of radiation on the treated area. The temporary skin damage due to radiation therapies for prostate cancer can last from four up to six weeks.

• Minor darkening of skin, thickening of tissue or skin and enlarged pores are some long-term side effects of the treatment. The skin can become more sensitive or its sensitivity can be reduced for a long time too.

• Damage to the reproductive system leading to erectile dysfunction and urinary symptoms such as bleeding, frequency and incontinence in some cases can result from radiation therapy. In fact you need to discuss the possibility of these occurring along with their treatment options before getting this treatment done. One of the long-term adverse effects of radiation for prostate cancer include rectum inflammation (proctitis) with bleeding.

• Loss of energy is always accompanied by prostate cancer radiation therapy. It is not uncommon to have patients who complain of fatigue for many weeks after the treatment. In most cases this is mild and can be treated with at most a change of their daily schedule.

• Nausea and vomiting may also result from radiation treatment but they are not common. In cases where the upper abdominal areas are put under radiation therapy.

• Diarrhoea can result from the radiation beam passing through the bladder, rectum, intestines and through to the intestine. As the radiation invariably kills the healthy cancer cells along the way, it is bound to cause diarrhoea. The condition is under control in most cases and uncontrollable diarrhoea due to radiation therapy is not often.
Read : The Stages of Prostate Cancer
In order to avoid the complications of the long and short term side effects, it is important that you visit your doctor for periodic follow up exams and tests. Make sure that you stick to your doctor's recommendations for periodic tests in follow-up appointments.
Read more articles on Prostate Cancer.