Butter is the mainstay of several cuisines including Indian cuisine. Prepared from cream and churned until it reaches a solid state, butter (salted or unsalted) renders several health benefits. Butter helps the body to absorb minerals (calcium, magnesium, selenium and iodine), produce sex hormones (estrogen, progesterone and testosterone) and provide fertility-supporting vitamins (A, D, E and K). However, its fat content also poses health threat for many.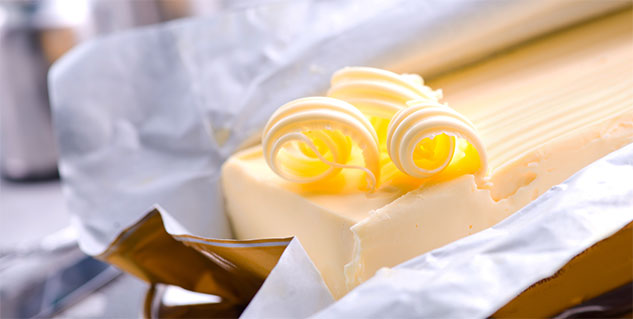 Benefits of Butter
Butter has fat that helps the body absorb many of the healthy nutrients found in vegetables. It especially helps in the absorption of carotenoids, effective disease-fighting antioxidants present in vegetables.
What to Avoid
A single spoon of butter has 30 milligrams of cholesterol and 7 grams of saturated fat. The daily intake of saturated fat, however, should be no more than 15 grams. Keep a count of calories when you have butter delicacies.
Advice for Butter Consumption
Low Trans-fat Margarine – An alternative to butter
Margarine, prepared by adding hydrogen to vegetable oil, can be an alternative to butter. It has 35% less fat and can be prepared to match zero-cholesterol standard. Owing to low saturated fat and zero trans fat, individuals can rely on low trans-fat margarine to save health trouble.
As far as whole foods are concerned, butter edges past margarine and is also a less arbitrarily prepared food with a nutritional standpoint. Being natural and organic, butter is a healthier choice in a comparison with margarine.
Image: Shutterstock