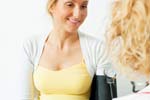 First antenatal appointment for a pregnant woman is essential to keep a check on the mother's and baby's health.
An antenatal apointment with a doctor helps a pregnant woman check her health and that of the baby.
When to have First Antenatal Appointment

As soon as you suspect or find out that you are pregnant, call your doctor to schedule your first antenatal appointment. Even if you have got a positive pregnancy test result at home, go for a physical examination under the aegis of an experienced hand. Usually, the first antenatal check-up is the longest and is scheduled around the eighth week of pregnancy, but if you have any underlying medical condition that can affect pregnancy, it is wise to arrange the meeting as soon as possible.

Presence of vaginal bleeding, severe nausea, vomiting and abdominal pain increase the need for an antenatal appointment. All though, all these are a normal part of a healthy pregnancy, your doctor will explain what you can expect in what extent.
Preparing for your First Antenatal Appointment

The very first step of preparing for your first antenatal appointment is to know what to expect from it. The first visit will be a chit chat session with the doctor.

Be ready with your health history

On your first antenatal visit, your gynaecologist will ask you about your medical history, gynaecological details and routine habits. Here is what your doc may ask you:
About habits that can have impact on your pregnancy. For instance, drinking, smoking or any other kind of drug dependence.
About your medical conditions and the medications that you are currently on.
Drug allergies.
Past surgeries and hospitalisation.
Any psychiatric problem.
Family history of any serious disease such as diabetes or cancer.
Furthermore, you must be prepared with details about your menstrual cycle.
First day of your last menstrual cycle.
Details about previous pregnancy.
First antenatal appointment is time for counsel

First antenatal appointment is not only about check-up and physical examination but also a discussion on what should be done during pregnany. The gynaecologist is likely to advice you on the following:
Eating habits.
Foods to avoid.
Weight gain during pregnancy.
Prenatal vitamins.
Medication that must be completely avoided during pregnancy.
Common discomforts of early pregnancy.
The symptoms that require immediate medical attention.
Remember that your emotional and physical well-being holds utmost value for a successful pregnancy. Therefore, if you extremely anxious or have any other query, feel free to talk to your doctor during the antenatal appointment.
Read more articles on During Pregnancy