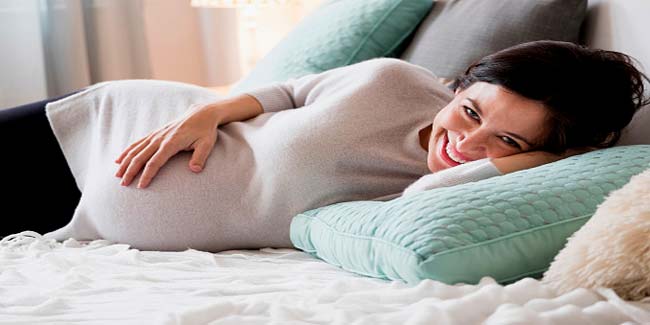 32 Weeks Pregnant – Pregnancy Week 32 means that your baby bump will be more visible now! Although you might have apprehensions about childbirth, the key thing to do here is to talk to your doctor.
Pregnancy week 32 means that you are into the eight month of your pregnancy. It also means that you are just about a month away from giving birth to your unborn child! The 32nd week of pregnancy is important for foetal development as in this week the baby, continues to grow and also prepares for birth. To-be mothers experience certain pregnancy related discomforts such as heartburn and body pain.



32 Weeks Pregnant: What to Expect
Pregnancy symptoms in week 32 include landmarks such as the hardening of the bones of the baby and the complete formation of the skeleton of the unborn foetus.
Pregnancy Symptoms in Week 32: What to Expect in Baby Development
By the time you are 32 weeks pregnant, baby development will mean that your unborn child now weighs about 1.7 kilograms and is about 42 centimetres when measured from its head to toe.
The baby's lungs are still forming and will mature before delivery.
Most babies develop a mop or a few strands of hair around 32 weeks of pregnancy. It is however, no indication of how their hair will actually be when they grow up.
The baby will continue to gain weight. It has to amass around 2 more pounds before labour and delivery. When seen in a sonogram, the baby will appear chubby.
At this stage of pregnancy, the eyes of the baby are fully formed and they can open and close.
The baby is exercising its lungs during the 32nd week of pregnancy by swallowing amniotic fluid.
Pregnancy Symptoms in Week 32: Changes in the Mother's Body
Weight gain will continue during the 32nd week of pregnancy. You might gain a pound on a weekly basis. However, you must continue eating well and staying away from caffeinated drinks. Also remember to eat in small portions so that your digestive system does not get in a tizzy. Remain hydrated as the baby needs the water. It will also help you avoid pain and body ache which feature prominently during pregnancy.
Some pregnant women start experiencing the Braxton Hicks contractions during this week of pregnancy. However, you have no reason to worry because it is body's way of preparing for actual childbirth. Make sure to tell your doctor about it so that he can keep a tab on your pregnancy week by week development.
You will experience shortness of breath because the baby is slowly pushing down the pelvic area. This causes the internal organs to rise up. You can help yourself by changing your position after regular intervals.
The blood volume in your body will also rise around this week of pregnancy. It is essential because you will lose a lot of blood during childbirth.
Other notable pregnancy symptoms in week 32 include, breast leaks, bleeding gums, leg pain and in some cases insomnia.
Some Special Tips for Pregnancy Week 32
Many women start worrying about labour and delivery around this time. However, the right thing to do is to talk to your doctor and tell him about any apprehension that you might have.
False contractions will occupy you by the time you are 32 weeks pregnant. However, you need to calm down and try and understand if this is a real contraction or not. Try eating something and if the pain subsides you will know.
Now is the time when you need to start relaxing. Cut down on exerting work and take ample rest.
Image Source: Getty
Next Week - Pregnancy Week 33
Previous Week - Pregnancy Week 31