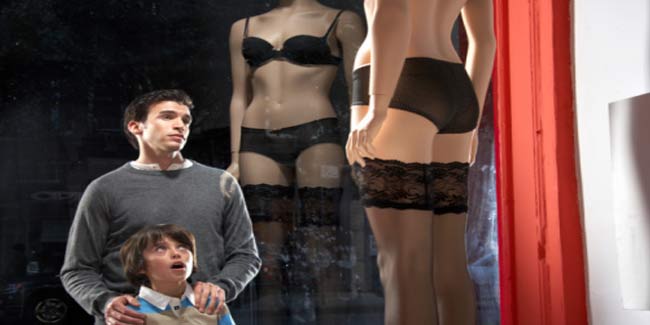 Parents should make their kids understand human sexual anatomy. It is mandatory to explain the emotional turmoil that they experience at the age of puberty.
There are many schools that offer sex education, but don't rely on classroom instructions alone. Parenthood comes with a responsibility. Being a parent, you should be the first source of sex education for your children. Here's help talking to your teen about sex.
This can be handled maturely in the following ways:
Through pictorial books that help in easy learning.
With the help of group discussions meant for different age groups where children's queries are catered to individually.
Documentaries and short films that can be watched along with parents.
Answering queries without hesitation. A parent should always remember that hesitation from their side can lead to hesitation from the child's side as well.

In case you discover that your child is sexually active; instead of scolding your ward, you should be tactful and take charge of the situation. The reasons responsible for child's particular behaviour should be unearthed. Teenagers behave erratically and knowledge of teenage psychology is a must for every parent. Another crucial element, which fosters growth in children, is active interaction with their parents, therefore, family dinners and outings are a must.

Responsible parents must understand that they should be the ones to clarify any doubt that their child has regarding sex and sexuality. External sources of information like peers, illicit magazines and pornographic material available on the internet will only add to the confusion. Communicating with children will also enable parents to instill a strong sense of morals and responsible attitude.

To begin with, schooling the children at home on sexual health should involve a basic understanding of the human anatomy and closely discussing the reproductive system of human beings. At school, biology is inclined more towards a literary understanding of the organs with minimal focus on the sexual aspects. It is therefore, the parents' responsibility to impart education on sex to their growing children.

Sex education does not involve only teaching the children about the anatomy of the human reproductive organs. It is much more than that. Sex education also involves making children realise the moral obligations that they have towards the opposite sex. For example, teenagers should be made aware of right conduct and behaviour towards their boyfriends or girlfriends.

Sex education is a relatively uncomfortable and a tricky concept to discuss with children because of the generation gap, which makes it difficult for parents to communicate with their wards effectively. This becomes even more of an issue if your teenage child is already sexually active. However, the onus is on you to explain to your child the various implications of their actions. But a mere escaping from this key parenting role might lead to unfortunate incidences. Parents, on the contrary, should be vocal about their concerns, keep the sessions interactive and friendly while passing on sufficient information on sexually transmitted diseases, through examples.

A parent must be selective about discussing topics. Passing on excessive information can get boring for the child as well. A confident parent is preferred, who should maintain the level of understanding with the child. Experts can be found in schools but at home, parents should be a trusted point of contact for the child. Sex education at home should not be in the form of curricula. Parents can also broach these sessions better through reading books, visiting counsellors or a basic internet search to make the topic much more candid.

Enclosed is a handy guide for parents:
Be firm, confident yet gentle while addressing the queries of your child.
Monitor your child's reactions and biases. They will help you realise the goals of sex education.
Demarcate the discussions in terms of unhealthy gossips they hear from school and friends and correct information.

Read more articles on Sex Education.