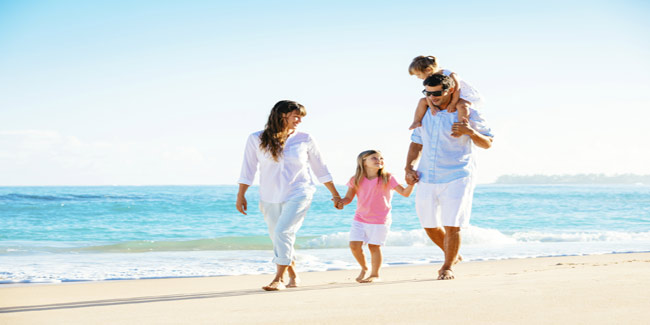 Whether you're planning a summer trip across the country or a weekend get-together with family and friends, don't let your health take a back seat.
Summertime travel is a great way to spend some time off work. It also is an opportunity to increase the family bond and rejuvenate. While having a great time on your vacation, many times we struggle to keep up our healthy habits. It is easy to throw efforts to eat healthy and be active, thinking it's a vacation and telling yourself 'we are here for fun'.
Whether you're planning a long drive across the country or a weekend get-away with family and friends, don't let healthy eating take a back seat. You can eat well while on the go this summer. Just think before you eat.
Healthy snacking



When choosing foods and snacks for your trip, avoid the chips and sodas, and pack a small cooler with healthier items that are easy to eat in the car like fresh fruit, cut-up raw vegetables and bottled water. Also pack some dried fruit, nuts and seeds.
Exercise



Whenever possible, build physical activity into your travel plans. Physical activity may help you and your family and friends manage the demands of travel by promoting a sense of well-being and reducing feelings of anxiety.
Be ready for travel troubles



Jet lag, altitude sickness and diarrhoea are some of the common travel-related ailments. Look up on the internet the ways and strategies that can help deal with these travel troubles. Taking precautions can help decrease the irritability, tiredness and insomnia that these health ailments accompany.
Don't forget the meds



If you are on a medication, don't forget the medications you need for your entire stay. Keep prescription and details of the doctor in carry-on luggage to make sure that you can contact them if need be. All the travellers should keep in mind that first aid supplies and medications may not always be readily available. So, always carry a travel health kit.
Sun protection



Summer is all about sun. Take with you sunscreen, a hat, and sunglasses to protect yourself from outdoor harmful sunrays.
Always carry a water bottle



Stay hydrated to avoid fatigue and muscle aches. Travelling can leave you parched both inside and out. Drink lots of water.
Keep moving



Sitting in the same position for long periods can lead to many health problems. To avoid muscle aches, get moving. Keep circulation going in your body by moving arms, legs and changing positions.


These tips will ensure that you arrive relaxed and ready to enjoy your stay, and return home feeling refreshed. Besides the aforementioned, there are plenty of ways to beat fatigue and take care of your mind and body while on a holiday during summer. Always plan and prepare for a vacation beforehand.
Read more articles on Travel Health.