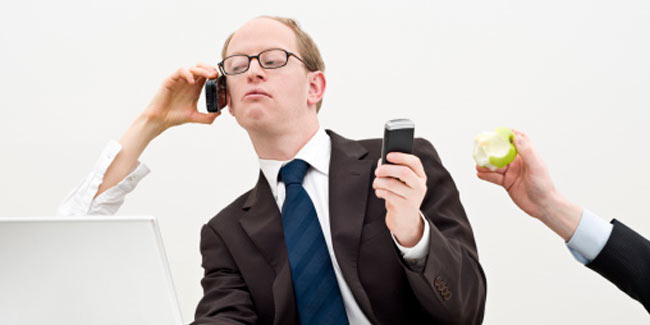 It is not unusual for us to not feel extremely tired to workout or skip the escalator at metro stations for the stairs after a long day at work. If you have been working for a while, you must already be pretty frustrated to know that there is just nothing that you can do to keep fit. Staying in shape and healthy is a challenge for someone in an office job. But, you are not far knowing how you can be fit even when you are working.
Eating Right at Work
Keeping your food habits in place at your workplace is simply not a show off of your dining etiquette. There is truck load of good that food can provide you with at your workplace other than providing you with appetizing taste, knowledge and nutritional gains.
Briefly described, it is essential to eat right at work! It will not only take due care of your health but will also show you as a diligent and a meticulous employee.
Eating on Time
We all know that healthy food habits are all about eating right bites in right size! However, being extremely meticulous about your eating timings and getting irritated if your lunch is delayed is not a healthy sign. Stop being such a fuss, when you have other official matters (such as meeting or traveling) to look into.
Bear in the mind that in office work is your priority and not food. Eating in office must include foods which are energy rich and should not stuff you to your sleep levels completely.
When Less is More
Make sure you are not piling your plate with mountain high food. Eating right bite is not about eating too much food but it is all about eating healthy and wholesome stuff. The same must be applied for snacking in between your meal. Be it munching biscuits, dry snacks or fruits.
Working Lunches
Make sure that if you are a part of a group for whom working lunch is being ordered, you should not get distracted by this. Eat whatever is conveniently available and stop getting too choosy about it. Unless, you just need to specify any food item that you are allergic to.
Being Finicky
If you are in a senior position, it is perfectly alright for your colleagues to know what food you must avoid. However, if you are an employee, be a little flexible in your choices and go with whatever is being ordered at that point of time. In the end, if you are a real foody and food is something which brings a pleasant smile on your face then discuss your food habits only with the near and dear ones- in particularly those who relish being with you to different eating joints.


How to Keep Away from Snacks in Office
A week at the office is a daunting prospect. Office without any snacks to munch through the day is, for most of us, an unthinkable thing! The fact that we all know that these snacks are not the best thing for our health, tends to occupy our minds as only a subsidiary issue. As Sanjay Sharma, who works in an MNC in Gurgaon put it, "when they're there to munch on, it is very hard to not munch on them." So, what can one do to keep one's hands off the snack drawer in office? A lot, it turns out. Read on.
The easiest way to ensure that you don't eat the munchies in office is to ensure that you have a good, heavy breakfast. If you're full, you won't really want to munch on anything, says Dr Anjali Bhargava of New Delhi.
Eat a healthy, filling, and non-oily breakfast at about 8 in the morning, and you'll be good to go till lunch time. But if you do feel peckish in the middle, instead of reaching out to the snack drawer, take a walk to the water cooler instead. Not only will it take your mind off the snacks, it will also give you a chance to exercise a bit. Also, says Dr Bhargava, the body often misreads the signal for thirst as a symbol for hunger. It's a good idea to drink water and stay hydrated in office. So, the walk to the water cooler is a triple benefit deal. One, it helps you get mind off the unhealthy snacks; two, it keeps your limbs moving, giving you some much needed exercise; and third, it keeps you hydrated.
Also important while at work is never to skip meals. No matter which meal it is that you have to eat while in office – breakfast, lunch, or dinner – don't skip it. Skipping meals and eating sparsely is one of the main reasons why people find themselves snacking all the time. So, eat healthy, and eat well. But remember to eat. You may also want to bring a packed lunch from home, or get one of those home-cooked meal dabbas for lunch, instead of eating at the cafeteria or at a fast food joint. Not only is it a great way to stay off junk food, it also gives you an excuse to eat heartily. If you know you're eating healthy, eat more!
But here's the thing. As Sharma put it, it's really hard to resist eating in between meal times! So, then as a solution, why not stack up on healthier snacks in office instead of the usual chips and stuff? Fruits, almonds, healthy cereals all make great nibbling food. Get together and decide on a healthy snack drawer, and get healthy s a community...It is always easier to work in a team, isn't it? And then there are those sugar free chewing gums. Always a great way to keep chewing, keep your teeth healthy and keep off the urge to munch.
There is another trick Dr. Bhargava has up her sleeve. A craving, she tells us, only lasts ten to fifteen minutes. So, as soon as the desire to munch on a snack hits you, take a walk, talk to a co-worker or make that phone call you've been putting off all day. In ten or fifteen minutes, you won't feel that urge to snack anymore. We tried it. It works!
Image courtesy: Getty Images
Read more articles on Office Health.