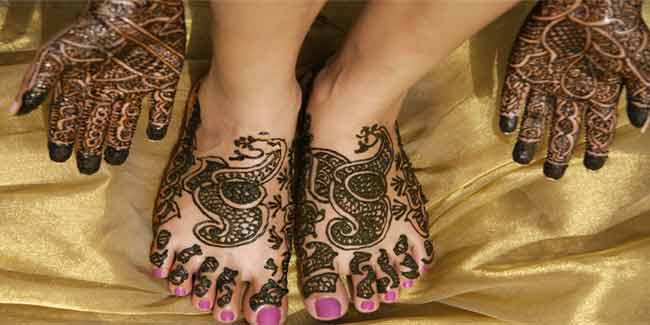 Applying henna is not confined to celebrations and occassions anymore. It has become a trend and can be worn anytime. Read here about various mehndi designs.
Gone are the days when mehndi was applied only on special occasions. Nowadays, women and girls do not even mind going to college and work with beautiful mehndi designs on their hands.



Mehndi requires pure expertise and these days, even professional help. Varieties of designs are available according to the cultural background and their individual features. Indian, Arabic, Pakistani and African Mehndi designs are the most well known.
"Indian mehndi are the most popular designs and are very diverse. They range from simple designs to complex. Simple designs have a big dot or in the centre of palm. Finger tips are also covered. This design is very easy and can easily be mastered by amateur designers. It takes couple of minutes to draw it. Girls and women will prefer this design for occasions or rituals like marriage, festivals and others," says, Prakesh Chandra, a mehndi designer at M G Road.
Further explaining about other types of designs he says, "Pakistani mehndi designs are a merger of complex versions of Arabic and Indian designs. These designs are also much more detailed and used on Eid."
Speaking about African designs Jeetendar Jain, who draws mehndi at Jayanagar, 4 Block said, "These designs are simple geometric shapes, consisting of lines, squares and dots. Arabic designs are much simpler. Arabic designs mostly consist of leaves, veins, flowers, etc. These designs are perfect entrant if you want to extend the design from hand to arm or from foot to leg. Another distinguishing feature of Arabic designs is that the shapes are not filled, they are just outlines. These designs partially cover your hands or feet. These designs consume less amount of mehndi and easily dry out."
The rates depend on designs and how long the customer needs it. The rates are also considered if it has to be applied on just one hand or both the hands or both sides of hands or foot as well, etc.
In India, the longer the henna stays on the bride's hand the longer it is believed that her in-laws will treat her well. If the henna fades out quickly, it's a sign that she will not be happily married.
Henna is known to be dangerous to people with glucose-6-phosphate dehydrogenase deficiency (G6PD deficiency), which is more common in males than females. Infants and children of particular ethnic groups are especially vulnerable.
Henna seems to be safe for most adults when used on the skin or hair. It can cause some side effects such as inflammation of the skin (dermatitis) including redness, itching, burning, swelling, scaling, broken skin, blisters, and scarring of the skin. Rarely, allergic reactions can occur such as hives, runny nose, wheezing, and asthma.
Henna is considered to be unsafe when taken by mouth. Accidentally swallowing henna requires prompt medical attention. It can cause stomach upset and other side effects.


Read more articles on Hand Care.