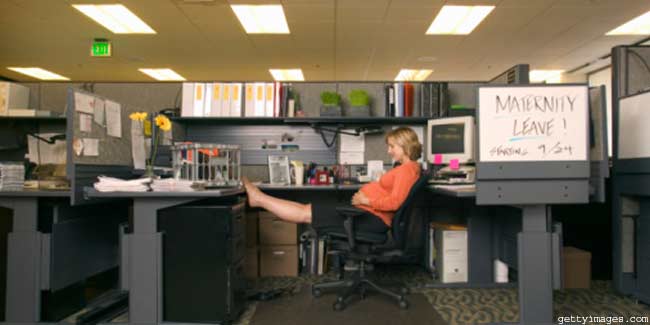 Maternity leave is that duration of leave given to a pregnant woman or going-to-be father that lets her to prepare and recover from childbirth without having to work at the office.


Maternity leave generally starts six weeks before the expected due date. Most companies have paid maternity leave but you would need to ask your boss regarding any formalities or paper work which may be required to get maternity leave. You may also approach the human resources department of your company to be aware of the policies and regulations.

If you have completed more than six months in your company then as per the law you are entitled for maternity leave. As per law, your pregnancy should not be a reason for any unfair treatment at workplace or for dismissal. But any leaves beside maternity leave will need permission from your boss as well as has to follow company's rules and policies, any extra offs may be unpaid in nature or as per company's rules.
How to Balance Work and Pregnancy
Most companies have a positive approach towards pregnant women. The human resource department and your company's policies along with your team will ensure a safe and secure environment for making your pregnancy less taxing. You should be aware of your job rules and regulations regarding pregnancy and other related topics such as insurance and leave. Be aware of your rights so that you do not come under any pressure. Today, most companies have and stress on a work-life balance and you should not be facing any problems whatsoever.
The law recognizes a women's natural transition of motherhood and the nurturing of a newborn which only a mother can provide. The corporate industry as well as all organisations respect and provide their women workforce with the necessary support in form of leaves, medical benefits and less stressful work during pregnancy. With the help of established policies, a woman now has the strength and will to work even after her childbirth. Women no longer have to give up on their successful careers to raise a baby, if she desires she can skillfully juggle both the roles that of a mother and a professional.
Duration of your Maternity Leave
The duration of maternity leave may vary from company to company. While some companies have maternity leave of three months others stretch it to six months which may be paid or unpaid leave. Depending on how long your association is with a company, rules may be drawn flexible with certain conditions. Some organizations have flexible work hours during pregnancy while others also have the option of working from home. Few companies also provide with day care facilities for employees with young children. Most of the companies believe in a work-life balance approach and make efforts in doing the same. Depending on the policies of your company apart from maternity leave, you may also be entitled to other health benefits like medical insurance which covers your pregnancy too. You would need to check and be aware of your company's rules for pregnant employees.

A maternity leave usually starts six weeks before from the day of expected due date and continues till six weeks from the date of delivery, which makes it three months in total. Most of the companies follow a three month maternity leave policy. You should have at least completed six months in a company to be eligible for maternity leave.

In the case of an ill-fated event like miscarriage, you would need to provide relevant documents to your company to make use of any medical benefits. Any other pregnancy related conditions may provide you with additional leave.
According to your company's rules or procedures, you would have to request for a maternity leave and its benefits in writing. You would also have to allot a nominee apart from you being the primary receiver of maternity benefits. All relevant documents like a doctor's letter on the expected date of delivery may be asked to be attached. You would need to check with your human resource department about relevant formalities which would need to be duly complied with. Be aware of any medical or insurance benefits which you may be entitled to apart from a maternity leave.
Read more articles on Pregnancy and Work.