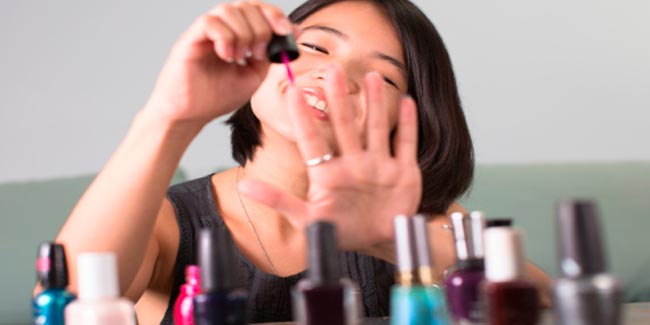 Salon manicure can be expensive and unhygenic too. Learn simple ways of doing manicure at home and save money as well as prevent certain health risks.
Do you know that hands are one of the most important parts of your body? Usually, whenever we meet someone for the first time we tend to shake hands. Thus, hands are one of the first things that others notice about you.
Do you feel weird while looking at your hands because your nails have rough cuticles or your hands feel as hard as a piece of rock? If yes, then it may be because you are giving too much stress to your hands and nails. In case, you do not bother to take care of your nails and hands, then you must start doing it from now onwards; well-manicured hands and nails always make you feel good and nice about yourself. It is a great way to unwind your stress.

You must be thinking that getting a manicure treatment done in a salon is an expensive deal, but the best thing is you can do a manicure at your home without any assistance. You actually don't have to take any appointment and spend money at salons. With these simple manicure tips, you can pamper yourself at home itself.

All you need is:
A bowl of lukewarm soapy (mild) water to dip your hands in it.
Cotton balls.
Paper napkins.
Nail cutter.
Nail Filer.
Cuticle remover.
Nail paint remover.
Exfoliating cream.
Emery board.
Olive oil or moisturizer.

Use nail paint remover and cotton ball to remove the nail paint from your finger nails. Gently rub the cotton ball above your finger nails and ensure that it is used on the nails only and not on the sensitive area near the nails. Now, trim and file your nails to a length of choice. Always file your nails in one direction, and the best way to do is to start from the edges and move towards the top. The next step is, soak your hands in lukewarm water, which has mild soapy solution added to it. Soak for five minutes as it helps the skin on your hands soften. Doing this will help in making the cuticles soft and loosen up the dirt under your finger nails. You will feel your hands and fingers relaxed. Now, wash your hands in fresh water and pat dry using a paper napkin.

Apply cuticle oil or olive oil on your hands and use a cuticle remover and push back the cuticles. Trim excess skin with the help of a nail cutter. Use the exfoliating cream to gently rub the hands helping in removing grime and dead skin cells only for two to three minutes. This step will improve the blood circulation of your hands, but do not scrub your fingers as it will remove the shine of your nails. After exfoliation, soak your hands for five minutes more in the lukewarm water solution while using the nail brush to clean your nail plates and beneath the nails. Dry your hands and shape your nails with the emery board to a shape that suits your lifestyle. File the nails in one direction only. Now moisturize your hands with warm olive oil or a moisturizer. Apply nail paint if you want to.


Read more articles on Hand Care.