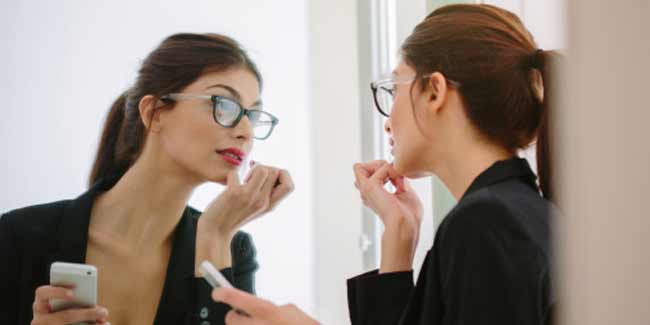 You might fret having got up late in the morning and ending up with limited time for make-up. But, do not worry. These make-up tips will help you get ready in just 5 minutes.
There are countless times when you end up having only about 30 minutes to get ready and scoot to your office for an important meeting and you cannot afford to look like you have just got out of bed. So, what can you possibly do to not look electrified at your meeting? Quit fretting and put these 5-minute make-up tips in your beauty diary.

An Important Tip
Always make sure that you carry the essentials in your bag when you are traveling to work just in case you forget to put something on at home. The make-up props take very less space and will not cause you any discomfort. You could even stuff them in a small make-up pouch.


Essentials for 5-minute Make-up
• Tinted moisturiser/foundation
• Kajal
• Compact
• Lipstick and a lip balm if you have dry lips
• Bright and sparkly eye pencil.

Basics of 5-minute Make-up
When you are applying make-up and have limited time, there is a chance that you will apply the props in haste and end up skipping an important or basic step. For starters, here is how to get the right look.

• Apply moisturiser in dots from the forehead to the neck.
• Apply foundation and blend.
• Apply blush and blend.
• Apply an eye shadow of a colour dear to you.
• Apply eyeliner according to the dress.
• Apply mascara to the lashes.
• If your eyebrows are light, apply small strokes of a pencil.
• Colour your lips with a colour that goes with your dress.
• Powder your nose and the t-zone with loose powder.
• Check your blush and add a little bit more if required. Do not, however, overdo the blush.
Smart Tips for Fuss-free Make-up
• Lipsticks can be used as blush by dabbing a hint of the lip colour on the cheeks and blending it out.
• Dab a spot of frosted and metallic shadows on the pout of the lips to enhance them.
• If the eye shadows are in powder form, you may mix them with lip gloss and use.
• Eye shadows can also be used as powder blush depending on the shade and texture. Apply with a blush brush all over the apples of the cheeks.
• Old mascara can be mixed with a few drops of oil and used to touch up greys. But, be warned, this is temporary and if the weather is humid or if you happen to sweat a lot, the mascara could run all over your face. On such days, use waterproof mascara.


Image Source: Getty

Read more articles on Face Make-up.