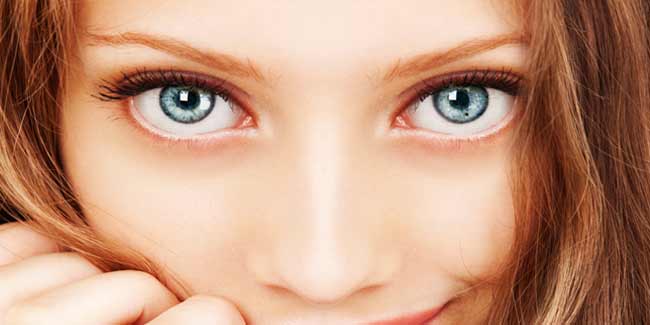 Eyes are the first things people look at and they should look their best. Get trusted eye makeup ideas from our experts and let your ideas do the talking.
Eyes are the first features that attracts a person to you. You can say a lot by just looking at someone's eyes. Even the simplest and barest of makeup can look smashingly beautiful if the eye makeup is correctly applied. The purpose of doing an eye makeup is to add definition to the eyes. With the correct use of eye makeup, the eyes can open up and have depth in them. Here's expert advice from Barbara Braeunlich (Beauty expert oriflame) for all the women who want their eyes to look truly beautiful.
Eyelash Curler

Using an eyelash curler works wonders for your eyelashes, giving them lift, curl and it can open your eyes instantly. I truly believe everybody should use an eyelash curler on a daily basis!
Step 1: Facing a mirror, tilt your head up so your upper lid is visible, then place eyelash curler as close as possible to the roots of upper eyelashes, close press for 10 sec.
Step 2: Moving slightly towards the tip of eyelashes, close again and work towards the tip of your eyelashes, opening and closing as you go along.
Eye Mascara
Step 1: After curling your lashes, start at the roots and work towards the tip of the lashes, making sure all lashes are coated with mascara.
Step 2: Comb with eyelash comb or brush to separate lashes, apply 2 -3 coats for a dramatic effect.
Step 3: Once top eyelashes are dry, apply mascara to bottom lashes and comb.
Eyebrows

Always keep eyebrows groomed for a sophisticated, polished look. Groomed eye brows are a real 'eye opener'.
Step 1:Inner edge of eyebrows should line up with the inner corner of the eye.
Step 2: The outer point of the brow should be diagonally in line with the outer edge of your nose, use a pencil between these points to find the exact spot.
Step 3: Brush eye brows upwards with a brow comb or brush and trim any hair over the top line with nail scissors, then, using a white pencil to draw over any unwanted hair so you can clearly see where to pluck.
Step4: Always pluck in good light and pull out hair in the growing direction to avoid skin irritation.
Dark under eye circles
Step 1: Apply skin primer to the area you want to conceal. If using foundation all over, apply skin primer all over face.
Step2: Layer 2 tones of concealer - start with a lighter tone to neutralize darkness, working into the skin with a concealer brush, blending it at the edges to avoid hard lines.
Step 3:Then gently pad a shade close to your skin tone over the top.
Read more articles on Eye Make-up.