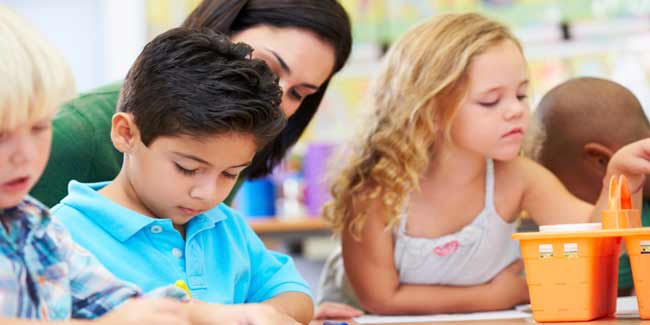 Learning activities for 8 year old kids should include participative games. They should have the purpose of the child's mental and physical development.
Children at the age of 8 start developing stronger personality traits which makes it a special and fragile time. Keeping the kid gloves on parents should make the best use of this duration by trying to bring the best in them out. Learning activities can help you.
Sports with Rules

This is a good age to introduce institutionalised sports to teach kids the value of sportsmanship and ethics. Both boys and girls should be encouraged to play keeping others in mind. They will learn how to work in a team and also expel their energies in a healthy way.
Logic

Its time to move on from simple puzzles to more challenging ones and even number games. This is a great way to test a child's aptitude as well. You can observe if they respond better to visual, mathematical or verbal data. Logic games can be crucial to their development.
Creativity

So far your kid had ample fun making a mess in the art class. Now it's time to redirect the energy that's spilling on your walls. Tell the children how they can create wondrous and beautiful objects out of mundane things lying about the house. This is the time to think out of the box.
Culture

8 is the appropriate age to introduce children to cultural appreciation. Take them to art galleries to admire paintings or perhaps a play for children will fire up their imagination to think about issues relevant to them. A little bit of stimulation will go a long way as children are naturally curious.
Construction

Construction toys like do it yourself kits of buildings and airplane models can really test your child's patience and dedication. In fact it can be a fun learning activity for both the parents and the child. If you help them along and encourage them to take lead in the little project it will boost their confidence and they will feel heartened towards other constructive habits.
Collection

Whether it's pebbles or stamps this is the right age to inspire the collective drive in a kid. If s/he has not already caught the fad from schoolmates you can introduce them to this hobby. The aim is to not only keep busy but to learn facts about each object. This will help them develop their analytical and research abilities later in life.
Indoor Games

With the onslaught of Playstation and the Internet children as young as 5 are losing the pleasures of board games. These will be a refreshing change for the entire family when you play a game that does not come with a TV screen glare but actually teaches skills. For eg. Monopoly is an old favourite that has gotten many kids interested in the economy and finance.
Story Telling

Gone are the days to passively listen to a beddy bye tale. Tell your child to make his/her own now as they are too old to simply be audience. This will not only help their imaginations take flight but also making your child more confident and expressive. S/he could even develop a future interest in creative writing.
Read more articles on Kids (4-7)