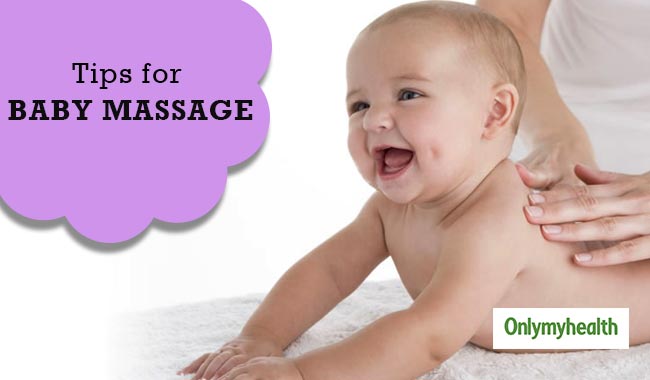 Touching and cuddling your baby is a way of bonding with your newborn.
Baby Massages Acts as a Touch Therapy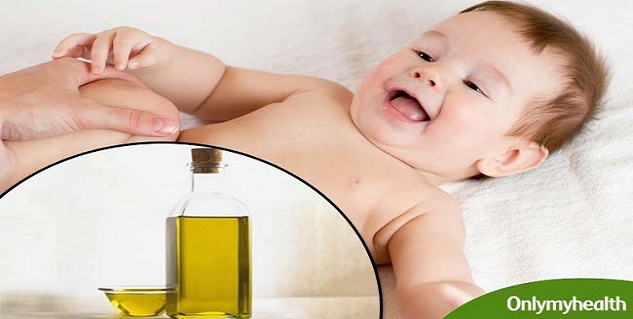 Also read: Best Baby Massage Oils you Must Have
Massages are also a way of touch therapy and an effective way of bonding between parents and a newborn. Parents cannot keep their hands off their babies as cuddling their babies gives them a sense of peace while babies themselves love to be stroked and soothed by their parents. This physical need for each other shows the importance of touch and its natural inclination between parents and a child. Touch helps the baby's emotional and neurological development as the interactions with his parents help him/her feel secure and comforted also boosting blood circulation by the warmth of the parents' body. The sense of touch is a crucial part of growth and development of the baby.
Therapists Recommend Baby Massages
Baby massages is not only an effective traditional practice as it is an accepted medical practice too, many therapists offer certified baby massages and make parents learn the techniques of a good baby massage. Studies show that babies who are massaged regularly have a healthy growth and development while also gain weight gradually.
Benefits of Baby Massage
The sense of touch is a crucial part of healthy growth and development of the baby. Skin-to-skin contact between the parents and baby help in bonding, soothing and even alleviating symptoms of indigestion. Touch therapy helps in both physical and emotional development of the baby as it makes the baby feel secure and calmed
Massaging helps the baby relax and also provides a better sleep to the baby. Massaging boosts blood circulation and helps in physical stimulation which keeps the baby alert during his/her waking hours
Rubbing your baby's back and stomach helps in making the baby burp and ease out indigestion troubles
Massaging helps you bond with your baby in a non-verbal way. It also raises the baby's sense of self-worth as the baby knows that he/she's being cared and looked after by
Massaging helps in muscular development and promotes fine motor skills
Massaging during cold or congestion also helps ease discomfort
Tips to Good Massage for your Baby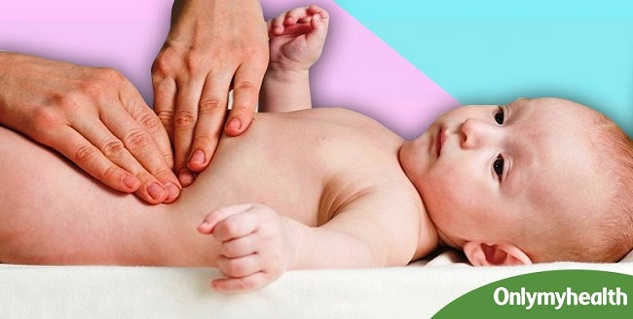 Also read: Development of a Baby at 3 Months
Find a warm and comfortable place to let your baby lie down safely. A flat and stable surface with a baby blanket is perfect. A little sunshine will do good as your baby will be exposed to vitamin D which is good for growth and development of bones. Do not overexpose or massage your baby in harsh sunlight. The rays of the sun should be indirect
Massage oils should be all natural such as coconut oil; olive oil, mustard oil and so on. Avoid fragrant oils
Pour the massage oil in your palms and rub your palms together. Doing this helps your palms get warmed as well as the oil gets comfortably warm
While massaging, talk or sing to your baby. Try having eye contact with your baby as it helps in non-verbal communication and talking animatedly to your baby keeps him entertained while diverting his attention to you
Make sure you pick the right time for a massage. The baby should not be sleepy, tired or hungry and you should have enough time at your disposal too. Keep your focus on the baby's reactions, if he seems not to enjoy the massage either your rubbing the baby too hard or he is not in the mood for massage
Make sure you are not hurting your baby unintentionally while massaging. Take off any ornaments on your hands which can hurt the baby, fingernails should be not poking or scratching the baby. Gentle and firm strokes with a squeezing motion are the best way to massage
Avoid sore areas such as rashes, wounds and vaccination spots
Read more articles on Newborn Care.
For more related articles, download OnlymyHealth App.