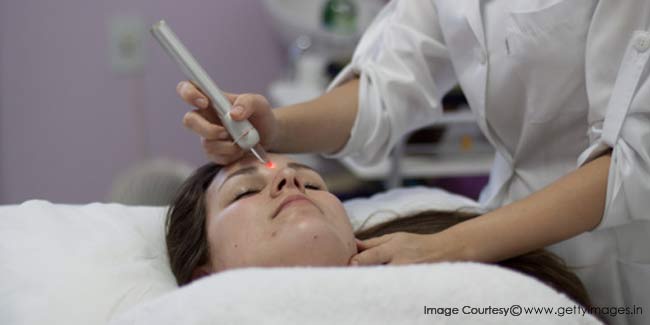 Laser treatment is considered to be the best treatment for acne scars. But its safety has always remained a question of debate. Read here for facts on it.
Treatment of acne scars is often difficult because different skin types and scar types need varied treatment. But the treatment is typically considered safe if done by experienced proffessionals.


There are two kinds of lasers for acne scar removal:
Erbium (ER) or YAG: YAG lasers use precise wavelengths and the moisture content in the skin to penetrate and be absorbed into the problem area.
Carbon Dioxide (CO2) lasers are relatively new in the skin surgery industry and patients must meet specific requirements in order to qualify for the procedure. It emits short bursts of extremely high-energy, highly focused laser light that vaporizes the scarred tissue layer by layer.



Laser options that are currently available to treat acne scars include excision, punch excision, subcision, cryosurgery, dermabrasion, microdermabrasion, chemical peels, ablative lasers, nonablative lasers, fractional lasers, silicone sheeting compression, dermal fillers and an emerging technique known as skin needling.

Skin Assessment
The physician needs to assess the scars efficiently to decide the kind of treatment required.

Laser treatments have been proven to be the best available treatments to make visible and stubborn acne scars appear faint or even disappear permanently. In most cases, people having mild acne scars can treat them by following a healthy dietary pattern along with washing the face with benzyl peroxide regularly.

One must always go to a certified skin care centre to get a laser treatment done. Many small and unregistered clinics practicing laser surgeries without qualified dermatologists might severely harm the skin.

Also, do not undergo laser treatments without consulting your skin care practitioner and determining the type of acne scars you have. A full knowledge of the cost, type, total number of laser sessions and side effects should be taken into consideration for a successful laser therapy.
Side-effects of Laser Treatment for Acne Scars
Apart from high cost, laser treatment can put the patient at the risk of some side-effects. Like:
Burning: High-intensity lasers can cause burning. This results in many side effects such as crusting, oozing, infections, swelling, cysts, and dilated blood vessels immediately after treatment.
Hyper/Hypo pigmentation: Some sensitive skin types may develop an uneven skin tone in the areas surrounding the lasers path. This can leave the skin blotchy, sometimes more unsightly than the original acne scars.
Textures: Not always but laser technique is capable of giving the patient eczema, acne, cyst and saggy skin because of inconsistent application of lasers. These effects often leave your skin in worse condition then when you went in.
Not addressing the underlying cause: The concept of laser acne removal is, at its core, only a cover up of any underlying issue that may be causing your acne in the first place. It is important to find and address the issue before even considering a procedure of this kind (in fact, non-active acne is a requirement for laser acne scar removal anyway).



Will Acne Reoccur after Laser Treatment?
Now, the main question is whether laser treatments will prevent acne recurrence or not. One cannot guarantee that but laser treatments assure a visible reduction in the intensity of acne in the later stages of life as the existing acne pores and the damaged tissues are sealed and healed. Simultaneously the sebaceous glands are closed leaving the skin free from scars. Laser also does away with the outer layers of the skin and promotes new cell growth.

Laser technology has indeed transformed the way health care practitioners treat acne. This has made laser treatments quite affordable. These treatments do not involve creams or lotions and are hassle free in many ways.

Another alternative to laser treatments is surgically removing the acne crusts with a lesion separately. This is a time consuming process but is relatively safe and without any side effects. Once the matter inside the acne is removed, the healing process starts automatically.

Image Source: Getty

Read more articles on Beauty Treatments.