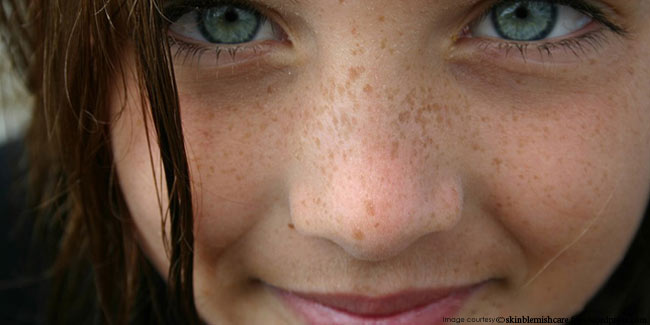 Brown spots occur on your face when your skin gets exposed to the sun more than it usually does, there comes an increase in the production of cells which is known as melanocytes and this makes the skin turn darker. These dark skin patches are more commonly known as brown spots, age spots, dark spots, sun spots and liver spots.
You will find that these brown spots generally appear on exposed skin areas like the face, back, neck, chest, shoulders and hands. There could be many causes for brown spots, but some of the main ones are sun exposure, aging, genetics, menopause, pregnancy, stress, improper skin care, weak liver, hyper pigmentation of the skin, lack of vitamin c or B12, cancer, dermatitis, and diabetes.
Lemon Juice
Lemon has bleaching property and thus can help to get rid of brown spots, all you have to do is simply apply fresh lemon juice directly to the affected area, and leave it for an hour before rinsing it with cold water. This must be repeated twice daily for about two months for positive results to show. People with sensitive skin should dilute the lemon juice with water, rosewater, or honey and the n apply it on the affected area. You could also dissolve sugar in lemon juice and apply the mixture on to the area.
Buttermilk
Lactic acid that is present in buttermilk is highly beneficial to the skin, and brown spots can be worked on with the help of buttermilk. Take a cotton swab and after pouring buttermilk on it apply it on the brown spots. Then leave it for a few minutes and wash it with plain water. For people who have oily skin or those who are suffering from acne, they can use buttermilk with some added lemon juice. Or you could also mix four teaspoon of buttermilk and two teaspoon of tomato juice together and then apply this mixture on the affected area.
Aloe Vera
You must have seen how aloe vera is used in so many cosmetics in modern times; this is because it is very good for healing minor burns and can lead to clear your skin from brown spots. Take aloe vera gel and rub it gently on the spots, and finally leave it for about half an hour before washing the area with cold water. You must repeat this process twice everyday and you will find positive changes in a month's time. In case fresh aloe vera gel is not found then you can opt for aloe vera juice which you can buy from the market. Also, you can drink two tablespoon of aloe vera juice daily, but only on an empty stomach.

Yogurt
This is a safe and easy way to lighten brown spots naturally, just take some plain yogurt and apply it directly on the spots and leave it to dry for about twenty minutes before rinsing it off with cold water. You can apply yogurt on the affected area before going to bed and leave it overnight. You could also make a pack at home by combining one tablespoon of plain yogurt, two tablespoon of ground oatmeal and one teaspoon to fresh lemon juice. You must follow this remedy daily for one to two months for positive results.

Your brown spots should disappear if you consistently follow the above mentioned remedies.


Read more articles on Skin Conditions