Stretch marks are a normal part of pregnancy. These are formed as a result of the growing abdomen, appearing in the form of red streaks on the sides of abdomen initially and gradually, turn silvery. If an expectant mother act early in the pregnancy, she can prevent or reduce the appearance of embarrassing stretch marks.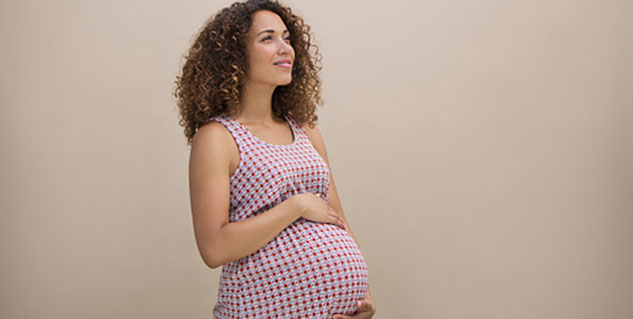 Stretch marks can be prevented with a few lifestyle changes and skin care regimen. Moreover, practicing maintenance after the baby is born is a part of stretch marks prevention.
How do we get stretch marks?
Stretch marks are synonymous with pregnancy or postnatal problems, but they can also affect those who experience sudden weight gain or rapid growth or any disorder which makes the skin stretch beyond its comfort zone.
Some adolescent boys grow as much as nine inches in a year, while boys and girls are prone to putting on extra weight during puberty. Those who do experience such swift changes in their shape or growth patterns are likely to acquire these stretch marks, as the skin may not provide the required elasticity, or "elastic" in time to facilitate the rapid growth.
Women tend to acquire them more than men in the same way they tend to bruise a lot easier too. Their skin is more fragile and delicate, so when it comes under significant strain, it tends to show; their hips, thighs and breasts are areas where these stretch marks are most common.
Lifestyle changes to prevent stretch marks

Skin-nourishing diet: You have to emphasise on eating healthy, balanced meals to make sure your baby is getting enough vitamins and nutrients from the very beginning. Above that, you need to take care of skin as body is continuously experiencing changes. Incorporate foods that improve your skin's elasticity and prevent stretch marks from forming. These include:
Spinach, blueberries, strawberries, and other fresh fruits and vegetables are rich in antioxidants that help nourish and protect skin.
Foods containing vitamin E (nuts, seeds, avocados and broccoli) that protect skin cell membranes.
Vitamin A foods such as carrots, sweet potatoes and mango help repair skin tissues.
Foods containing omega 3s such as fish, fish oil, walnuts, eggs and oysters should be a part of pregnancy diet; these keep cell membranes healthy and make your skin glow.
Stay hydrated: Drink as much water; it helps detoxify body and skin cells plump. Stay hydrated to bounce back from the stress caused by stretching.


Exercise during pregnancy: Exercising during pregnancy helps woman retain her skin's elasticity by improving body's blood circulation. Engagements in exercises not just prevent you from gaining too much weight, but also nip stretch marks in the bud.
Healthy weight gain: When a woman gain weight fast during permanency, stretch marks happen. Consult a health care provider for the guidelines on gaining weight gradually, rather than all at once.

Skin care regimen to prevent stretch marks

Moisturise your skin: Use a moisturiser to hydrate the skin on your belly, sides, lower back, thighs and legs, the body parts most likely to get stretch marks. A moisturising lotion penetrates the skin deeply enough to keep it hydrated and prevents stretch marks.


Exfoliate using dry brush: An expectant mother can exfoliating her skin using a dry brush, which not only improves blood circulation but keeps your skin healthy.


Abstain from use of harsh chemicals on your skin: Many ingredients of body washes and lotions dry out the skin and reduce its elasticity, which may stretch marks at vulnerable sites. When buying a cleanser, check the label for the natural oils that will hydrate your skin.
Stretch marks prevention & avoidance
Preventing this stretch is unavoidable if you experience rapid growth or weight-gain; the skin must give way. However, there are ways where you can prevent these stretch marks from appearing, by lessening the discolouration,
There are many stretch mark remedies and stretch mark removal creams on offer to help you recover. When used efficiently, these creams and lotions can prevent these stretch marks from appearing. Creams with cocoa butter, vitamin E and sweet almond oil are recommended; apply them in a spherical, borrowing motion to help stimulate the skin's elasticity as you do it. Pregnant woman, and boys who are experiencing a remarkable growth spurt, are advised to apply creams with cocoa butter specifically. When the stretch marks have appeared, the cocoa oil can still be used to lessen the visibility of the scars as well. Other solutions like aloe vera and tea tree oil are specifically useful at the same purpose.
Eating a balanced diet and drinking at least two litres of water a day should go without saying really, but it can't be overstated either. Get plenty of exercise in too and stretch well before doing so. Maintaining a healthy lifestyle is good for your skin and allows it to prepare for and recover from any trauma. Let's hope these tips help you to prevent stretch marks from appearing.
Image source : getty
Read more articles on During Pregnancy

For more such stories, Download Onlymyhealth app