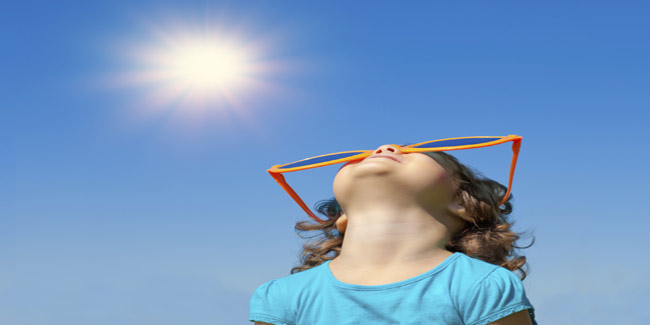 The ultraviolet light waves can cause damage to the skin, making it dark or tanned. If there is extreme sun damage, the skin can blister and become red.
Skin gets damaged easily from sun exposure. The ultraviolet light waves can have negative effects on the skin, and make skin dark or tanned. If there is extreme sun damage, the skin can blister and become red.
You can help to prevent sun-damaged skin by taking the following steps:
Sunscreen



Apply a sunscreen before you go outdoors. Choose a sunscreen that has a sun protection factor (SPF) of 15 or above, with a broad spectrum of protection against both UV-A and UV-B rays.
Sunblock on lips



Use a sunblock on your lips. Choose a product that has been specially formulated for the lips, with a sun protection factor of 20 or more.
Limit your time out in the sun



Limit your time outdoors when the sun is at its peak (from about 10 a.m. to 3 p.m. in most parts of the continental United States).
Medications



Be wary of the medicines and skin care products, as they can increase your skin's risk of UV damage. These include antibiotics, prescription medicines for psychiatric illnesses, high blood pressure, heart failure, acne and allergies. The risk increase manifolds when you are taking prescription medication and you spend a great deal of time outdoors. In that case, you should ask your health care professional whether you need any precautions to avoid sun exposure. Similarly, there are certain skincare products (especially those containing alpha-hydroxy acids) can make your skin more vulnerable to damage from sunlight.
Skin Evaluation



To help detect actinic keratoses and other skin abnormalities early, you need to look at the skin surface thoroughly, every one to two months. If you find discoloured patches, scaly skin, moles, small pearly nodules, sores and other skin abnormalities, you should see a skin specialist. To see the areas of your back, shoulders, upper arms, buttocks and the soles of your feet, use a mirror. Those with numerous actinic keratoses should get their skin checked by a doctor at least twice a year.
Other tips



Wear sunglasses with UV light protection. Wear long pants, a shirt with long sleeves and a hat with a wide brim.
If the above prevention approaches don't work, consult a dermatologist for treatment procedure options. There are several treatment options that rejuvenate sun-damaged skin, repairing the damage caused.
Read more articles on Sun-damaged Skin.