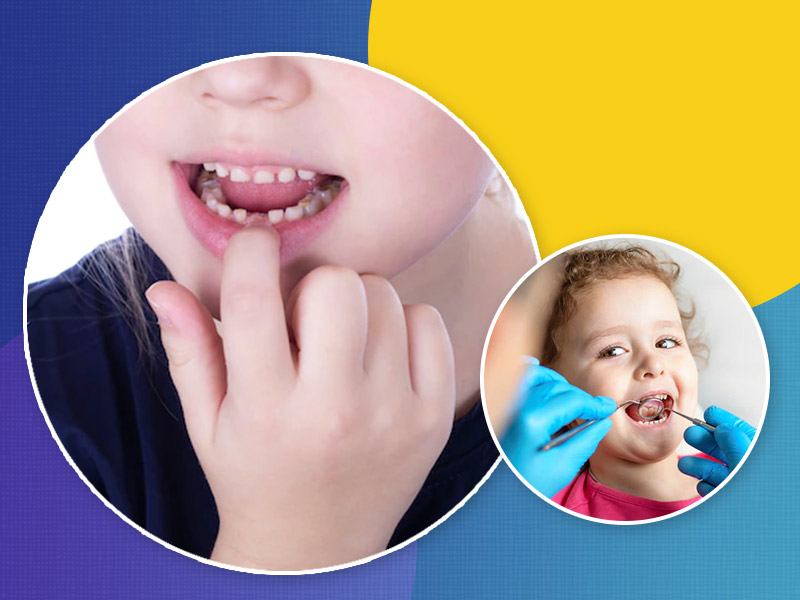 As doctors, it is rather unfortunate to see parents bringing their young children for dental treatment with complaints that could have been prevented with proper measures, says Dr. Suprabha B.S, Professor and Head, Department of Pediatric and Preventive Dentistry Manipal College of Dental Sciences, Mangalore, Manipal Academy of Higher Education, Manipal. Most often, the complaints are, "My child refuses to sleep at night and complains of severe toothache. I have given a painkiller syrup, but that doesn't seem to help" OR "My child's teeth broke off as soon as they were out. Now I see a number of boils near the gums and she is unable to eat". All these complaints can be traced to cavities in children due to a disease called Dental Caries in children.
What are Dental caries?
Dental Caries is a non-communicable disease affecting teeth of individuals of all ages. The cause of dental caries is traced to poor oral hygiene habits, high frequency snacking, especially foods high in sugar and low exposure to fluorides. When dental caries occurs in children below the age of 6 years, it is termed as "Early Childhood Caries". Here are causes of Early Childhood Caries
Improper infant feeding practices
Lack of oral hygiene
Sugary diet during the weaning period
Impact of dental caries on a child's health
A child will have complaints of pain which affects food intake as well as daily activities such as sleep, play, attendance at school
Untreated cavities for a long period can affect the quality of food consumed by the child, leading to a diet high in refined carbohydrates and sugar which compromise nutrition of the child.
Children will be vulnerable to various illnesses like repetitive episodes of sore throat, ear pain or even lung infections.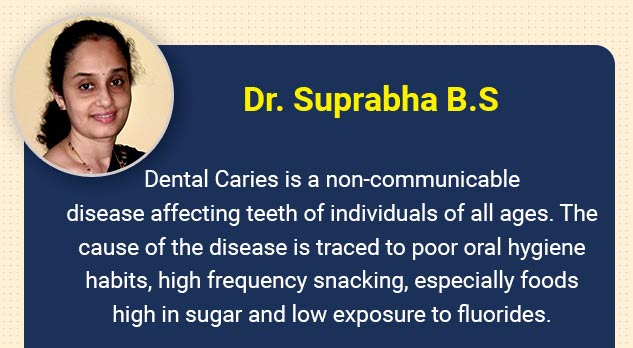 How To Prevent Cavities In Children's Teeth?
Here are some effective ways in which parents can prevent dental cavity in child.
1. Feeding Practices
Though breast-feeding per se is not harmful to the teeth, improper feeding methods can lead to the beginning of early childhood caries. Avoid feeding the baby with both the baby and mother lying down. After every feed, the baby should be burped and the pooled milk around the teeth or gum areas (before teething) should be wiped off with a clean cloth moistened with warm water, wrapped around the mother's index finger. It is important to exclusively breast-feed the baby in the first six months of life as it is hygienic, healthy in terms of essential nutrients, minimizes vulnerability of the baby to allergic disorders and provides good immunity against various diseases.
2. Oral hygiene practices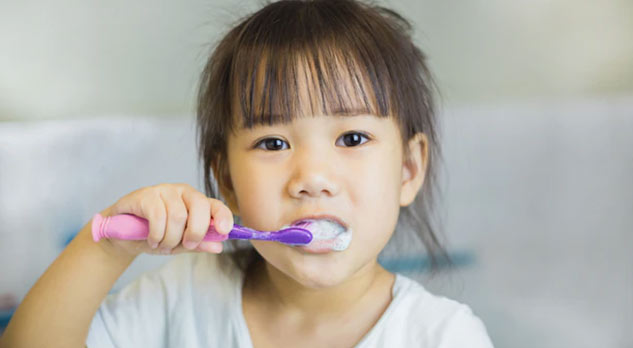 Wipe the baby's gums with a clean moistened cloth, wrapped around the index finger of the mother/caretaker at least twice daily. When the first teeth are seen in the mouth, they should be brushed twice a day with a finger brush or an infant toothbrush. A smear of fluoridated toothpaste of rice grain size may be used for better protection against cavities. Using more quantities of toothpaste can result in the baby swallowing the toothpaste, causing harm to the child. As the baby grows, up to six years of age, parents should brush their child's teeth twice a day.
Also Read: All About Flossing That No One Has Told You Before
3. Weaning and Diet
Weaning should normally begin by six months of age. During this period, when solid or semisolid foods are introduced to the child, minimise use of added sugar in their diet. Family pot feeding- giving family foods in a mashed form before adding extra spices or salt is the best way to ensure nutritious and non-cavity causing diet for the child. Avoid introducing the child to sticky foods with added sugar such as chocolates, candies etc. until the child is two years of age. Breast-feeding especially at night along with sugary foods in the diet of the child during weaning is the mechanism that leads to cavities in children during early childhood.
4. Regular visit to paediatric dentist
A visit to a paediatric dentist will help in early recognition of early childhood caries. The disease if recognized early can be controlled following the advice from a paediatric dentist. They can give you periodic guidance regarding home care of your child's teeth, infant feeding and weaning practices. They also assess the child's diet and healthy substitutions may be advised if found to be caries promoting. Hence, it is important that the first dental visit of the child should be before the child's first birthday.
Also Read: Tips To Protect Your Ageing Teeth And Gums
5. Prenatal and Perinatal Oral Hygiene of Parents
Ensuring good nutrition to the pregnant mother ensures proper development of teeth of the foetus. This prevents structural defects in the teeth of the infant that make them vulnerable to dental caries. The cavity causing bacteria are often passed on to the infant from the parents (especially mother), if they have poor oral hygiene and untreated cavities themselves. This can happen during cuddling or kissing the baby or by sharing common utensils like cups and spoons. Hence, it is important that mothers seek dental care during pregnancy and parents get their cavities treated.
Takeaway
To conclude, early childhood caries should not be neglected, as healthy milk teeth are important for overall health of the child. Dental hygiene impacts development of speech, healthy jaw growth and healthy permanent teeth in future. Good home care with oral hygiene maintenance, proper infant feeding and proper dietary practices with periodic care by the paediatric dentist can prevent or control early childhood caries and ensure quality life for your child.
Image credits- freepik